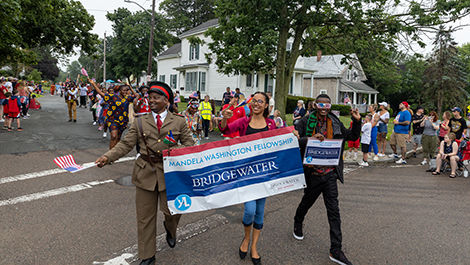 It felt like a moment where you are part of history. We've been feeling welcomed but now we feel like we're being celebrated.
Mandela fellow Ngundambiriko Katire
July 4th is a special day for Rwandans like Kalema Solange. In her native land, the holiday is known as Liberation Day, which each year commemorates the 1994 ending of the Tutsi genocide and Rwanda's liberation from the genocide regime. 
Marked by community reflections on the tragedy, cultural performances, and emotional celebrations, Liberation Day recognizes Rwandans' perseverance and commitment to a united future. This year, while attending a public management institute at Bridgewater State, Kalema experienced firsthand that other holiday that shares the same date: American Independence Day.  
"The community here is really strong," said Kalema, who wore a patriotic headband while marching in Bridgewater's July Fourth parade alongside her peers from the Mandela Washington Fellowship for Young African Leaders. "You can feel that spirit in everyone."    
Kalema is one of 25 emerging leaders from Sub-Saharan Africa spending six weeks at BSU for the fellowship thanks to a program funded by the U.S. Department of State's Bureau of Educational and Cultural Affairs and implemented by IREX. This is the seventh time since 2016 that Bridgewater has hosted the institute. BSU is one of 28 U.S. educational institutions – and the only one in New England – welcoming fellows this summer.  
The institute enhances fellows' leadership, decision-making and policy implementation skills through lessons from faculty and guest speakers, site visits, cultural activities, and community service. In addition to participating in the parade, fellows attended a clam bake on Cape Cod, learned about an inmate reentry program in Attleboro, and conversed with Brockton Mayor Robert Sullivan.   
The group plans to volunteer with Dress a Girl Around the World to make dresses for people living in poverty. They will also attend a Nelson Mandela Day ceremony at the Statehouse and meet a leader of the U.S. African Development Foundation. 
Fellow Joshna Bhoobun, a lawyer from Mauritius who works at her country's Supreme Court, was inspired by American efforts to provide mental health care, even to those who are incarcerated.   
"It's not the same back home," Bhoobun said. "I appreciate the way you take care of individuals as humans."
Ngundambiriko Katire aims to bring an interdisciplinary perspective to Namibia by incorporating lessons from criminal justice and public administration into his work as a psychological counselor at the Namibia Ministry of Labour.  
As they marched in the parade through downtown Bridgewater, Katire and other fellows waved American flags and those of their home countries while singing African songs.   
"I realized community is also important in the United States of America," said Ayodeji Erubu, a doctor from Nigeria. "Everyone appreciates that sense of being together."
The fellows fed off the energy of cheering townsfolk who lined the route even through a downpour.  
"It felt like a moment where you are part of history," Katire said. "We've been feeling welcomed but now we feel like we're being celebrated."
Do you have a BSU story you'd like to share? Email stories@bridgew.edu.