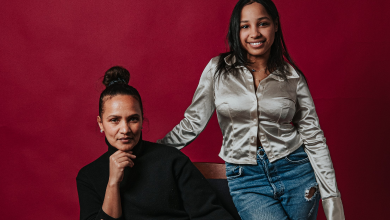 Any barrier, be it big or small, that may make you feel like you have no idea how to keep going, allow a student navigator to help you navigate through it.
It was her senior year at Bridgewater State University, and she needed to complete five classes to graduate. However, the stress of balancing a busy schedule was becoming too much, causing Hanice Andrade, '22, to question whether she could handle it all.  
"I was really about to give up on everything," Andrade said.  
That's when Executive Director of Student Success and Equity Interventions Cecilia DeOliveira stepped in and introduced Andrade to BSU's student navigator program, operated out of the office of Student Success and Diversity.  
Funded through an anonymous grant intended to promote BSU's efforts to close equity gaps, the program is in place to support students who can benefit from additional support.  
"The role of the student navigator is to listen to our students, to learn from them what obstacles and barriers are keeping them from succeeding at BSU," DeOliveira said.   
After sitting down and talking with Andrade, together they came up with solutions to better manage her hectic schedule. 
"It made me feel warm inside, that someone actually cared about my well-being, my mental health. She took the time to listen to my problems and help me find resources," Andrade said.  
That extra layer of support inspired her to continue with her studies. After graduating last year with a degree in anthropology, Andrade is now applying to schools to pursue a master's degree.  
"The student navigator program really focuses on you," she said. "It helped me not only find the resources I needed but they pushed me in a positive way. 
"Particularly for students of color, to have this resource is huge. They stretch out their hands for us, they see us...they helped me find success on a path I was struggling with." 
Iris Lapaix, '15, returned to her alma mater two years ago to work as a student navigator. She said helping students find solutions to roadblocks has been rewarding. 
"Being able to tell a student, 'You're all set,' means we collectively did all we could to ensure the barrier is no longer stopping them from progressing in their BSU journey," Lapaix said.  
Fellow alumna, Ellie Cooper, '22, was hired last July to also work as a student navigator. Being a recent graduate, she is familiar with some of the obstacles current students face.  
"When you come to college, you often don't know where to start. It can be intimidating," she said. "We serve as a direct contact person to help point them in the right direction. We are a listening ear for students, making sure that they are heard. Students need to genuinely feel they have a support person." 
It's important to note that student navigators do not replace supports already in place at BSU, but rather show students all of the opportunities that are available, said Sabrina Gentlewarrior, vice president of student success and diversity. 
"Student navigators provide warm handoffs to campus-wide experts, they help students find and identify the office or person that is best positioned to meet their needs," Gentlewarrior said.  
And while many of the students who receive support are directed to student navigators by faculty or staff, students are always welcome to stop by the office, located in Boyden Hall, Room 211.  
"Any barrier, be it big or small, that may make you feel like you have no idea how to keep going, allow a student navigator to help you navigate through it," Lapaix said.  
Do you have a BSU story you'd like to share? Email stories@bridgew.edu