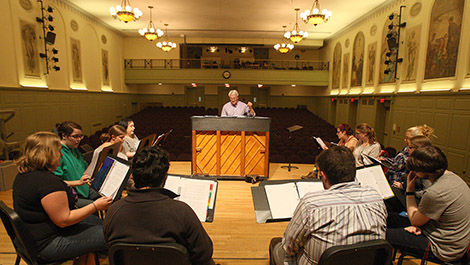 Story Series
Behind the Name
As a champion of public education, Horace Mann's name has been connected to Bridgewater State since its founding in 1840. 
More than 180 years later, Mann's legacy continues to serve the thousands of students who attend BSU, and his name graces a prominent campus facility. 
Named For
Horace Mann 
The Backstory
Known as the father of American education, Horace Mann became Massachusetts' first education secretary in 1837 and played an important role in education reform locally and nationally. 
Mann, who also served in the U.S. House of Representatives, was instrumental in launching schools such as Bridgewater that prepared students to become teachers. 
"It was his vision, his drive, his perseverance and his belief in education as the great equalizer for all citizens that spearheaded the launch of the commonwealth's normal schools," wrote emeritus history professor Thomas Turner.  
Mann believed in public education and standardizing (or normalizing) teacher preparation through the establishment of normal schools. Bridgewater became Massachusetts' third normal school when it opened in 1840. The teacher training model developed at Bridgewater and its sister institutions was replicated across the country and world. 
Named for Mann since it opened in 1926, the auditorium's main mural shows Mann attending a graduation ceremony. Other murals show key events in the history of education. The auditorium underwent significant renovations in 1953 and 2009. 
Use Today
Located inside Boyden Hall on the west side of campus, Horace Mann Auditorium is one of two large auditoriums at BSU. It seats 470 people and hosts campus events and concerts as well as community programs. 
Material in this article comes from the History of the University and Not to be Ministered Unto, But to Minister: Bridgewater State University, 1840-2010 by Dr. Thomas R. Turner.