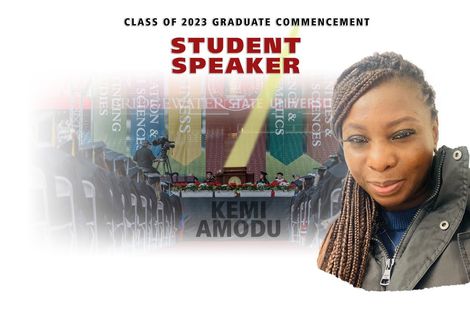 I know everyone has their own unique stories but I want to express my gratitude to those who have supported me and hope my journey inspires others.
Oluwakemi "Kemi" Amodu, G'23
Story Series
Commencement
Getting to the commencement stage is no easy task, especially for this year's graduate student speaker Oluwakemi "Kemi" Amodu, G'23, who experienced a unique set of circumstances as she pursued her Master's in Public Administration from Bridgewater State University.   
Late at night, as most of her neighbors were comfortably sleeping in their own beds, Kemi would sit down in the dark, flip open her laptop and with only the light from the computer screen to work by, log on to join her class being taught some 5,000 miles away.   
It was the fall of 2020 and because of the pandemic, many institutions, including BSU were forced to move classes online.   
Instead of traveling and moving to campus, Kemi opted to stay in her native Nigeria. The time difference meant Kemi was signing on at 11p.m. in Lagos versus her classmates who joined class at 6 p.m. in Bridgewater.  
"When daylight savings happened, it was even later and class time changed from 11p.m. to 12a.m.," she said.   
Local power outages made things even trickier.   
"I'd be in class and the power would go out. I didn't want to disturb my neighbors by going outside and turning on the generator, so I bought candles. Yes, I did classes by candlelight," she laughed.  
Eventually pandemic restrictions were lifted, and classes returned to in-person in 2021. That's when Kemi was able to come to the United States. She moved in with family already settled in the Quincy area and commuted to campus.    
"Virtual was fun, but I liked it much better being in-person," she said. "It was nice to meet people that I had known for over a year."  
Kemi jokes that one of her peers thought, because she was always sitting in the dark with a limited light source during online classes, that she was participating from her car.   
"I explained that no, I was home, just using candles," Kemi chuckled.   
Looking back now she can laugh but admits at times it was difficult to get up for school in the middle of the night.   
"It wasn't always easy, but it was worth it. But I love to challenge myself. One thing about me is, once I put my mind to it, I will do it," she said.  
Which is why she chose to pursue her master's degree in another country. After earning her undergraduate degree in creative arts back in 2006 from the University of Lagos, Kemi was mandated to serve her country for one year in the National Youth Service Corp. Once she completed her obligation, she embarked on a career in banking and telecommunications.   
"Then one day I decided, it's time to pursue my master's. I wanted a degree to advance my career," Kemi said.   
She had never heard of Bridgewater State University before, but in her online search came across the school and liked what she saw.   
"I thought, this looks good, and applied," Kemi said.   
What happened next surprised her. She not only heard from people in BSU admissions, but the department chair called her to learn more about what her expectations were.   
"I felt that BSU didn't just want my money but cared about my success. The customer service I received...the attention. That was it for me. It was a no brainer to choose BSU," she said.   
Since earning her MPA degree from Bridgewater, Kemi has received multiple job offers and is currently working in the Massachusetts Executive Office of Labor and Workforce Development's division of Apprentice Standards.   
She is excited to share her story of perseverance at this year's graduate commencement ceremonies on Friday, May 11, at Gillette Stadium in Foxboro.   
"I'm excited to speak. I know everyone has their own unique stories but I want to express my gratitude to those who have supported me and hope my journey inspires others," she said.   
 Do you have a BSU story you'd like to share? Email stories@bridgew.edu