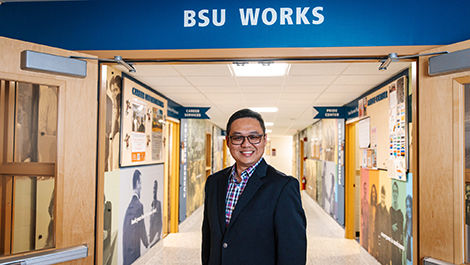 My true calling is helping people understand their skillsets and interest in what they want to do.
Growing up in Hong Kong, Dr. Gerald Tang attended schools where test scores played an outsized role in dictating a student's future. After immigrating to America, he discovered a higher education system focused more on helping students discover their passions.
Tang embraced that sense of exploration as a student and professional.
"My true calling is helping people understand their skillsets and interest in what they want to do," said Tang, who immigrated to the U.S. with his family as a teenager.
Tang sees Bridgewater State University as a great place to continue that mission as the first executive director of Career Services and the Internship Program Office. He looks forward to uniting the two in order to enhance support for students and alumni.
"The community cares about student success," Tang said of an initial observation of BSU. "Bridgewater is a great institution."
Tang comes to BSU with more than 15 years of experience in higher education, including most recently serving as the inaugural assistant dean for career integration at St. Francis College in New York City.
As a first-generation student, Tang found supportive mentors during his undergraduate years who shaped his educational and career journey. Even back then, he served his peers as an orientation leader, resident assistant and career development intern.
"I now understand what it takes to help students be successful in their college experience and professional experience as well," he said.
Tang is excited to work for a university with strong academic programs that is committed to innovation and social justice. He looks forward to larger conversations with employers about what comprises a living wage and ways to achieve a more diverse workforce.
"Our work isn't just about short-term change," he said. "Our hope is (to create) systemic changes across society at large."
Do you have a BSU story you'd like to share? Email stories@bridgew.edu.