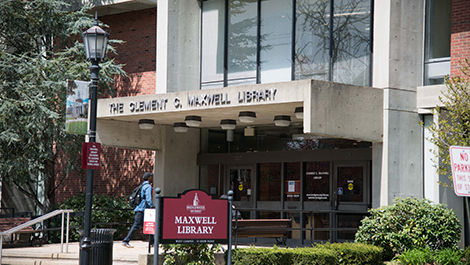 Story Series
Behind the Name
An admired and respected leader on campus, Dr. Clement C. Maxwell's tenure as president in the 1950s and 1960s marked the greatest period of growth up to that point in Bridgewater's history. 
His decade at the helm helped lay the foundation for the campus we see today, which features a library bearing his name.  
Named For
Dr. Clement C. Maxwell 
The Backstory
A native of Taunton, Maxwell came to Bridgewater with extensive experience as a secondary school teacher and a college professor. He became chairman of the English department in 1937, served as dean of the graduate school, and directed continuing studies programming and a summer school at Hyannis. 
Maxwell became acting president upon the death of his predecessor, Dr. John Kelly. 
Faculty and students praised his subsequent permanent appointment to the post, with one student telling the Campus Comment: "I'll be proud to receive my degree from Dr. Maxwell."
In an editorial, the student newspaper praised Maxwell's familiarity with Bridgewater. 
"Nothing could have pleased us more than his appointment as president of Bridgewater," the paper wrote. "To have a president whom we know means much more to us than to have a perfect stranger take the position as head of Bridgewater." 
Under Maxwell's watch, the number of faculty tripled as new courses and majors took shape. The physical campus also grew as Bridgewater built two new residence halls and a gymnasium. 
Maxwell, who believed that "a library is the heart of a college," led the remodeling of the old gymnasium (now the Art Center) into a library that was named for him in 1963. In January 1958, 900 students formed a human chain to move the library's 30,000 volumes from Boyden Hall across School Street to their new home. They toiled for five hours as music played over a loudspeaker to boost morale.  
Use Today
The current Maxwell Library, which is on the west side of campus between Shaw Road and Park Avenue, opened in 1971 and continues to honor Bridgewater's seventh president. It offers approximately 300,000 volumes, more than 31,000 periodical subscriptions and nearly 100 electronic bibliographic and full-text article databases. The library includes a café, classrooms, offices, the Academic Achievement Center and an auditorium. 
Material in this article comes from the May 28, 1952 edition of the Campus Comment, Not to be Ministered Unto, But to Minister: Bridgewater State University, 1840-2010 by Dr. Thomas R. Turner, Maxwell's biography and the 1975/76 Undergraduate/Graduate Catalogue.