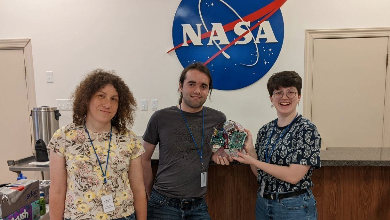 Being a physics major, it's a big deal to be doing something with NASA, no matter how big or small it is.
Abby Brown's love of astronomy began as a young child. Perhaps this had something to do with the fact that back then they used to be able to walk outside and watch the neighbors launch rockets into space.   
Originally from Riverview, Florida, the Bridgewater State University physics major, with a concentration in astrophysics and minor in computer science, grew up near NASA's Kennedy Space Center and it was a common occurrence to watch rockets lift off toward the stars.    
"It definitely influenced me, watching the launches," Abby said. "Since I was a kid, I could sit in my room and look out the window to watch the rockets go up. It's amazing." 
So, when the opportunity to participate in a week-long, on-site workshop run by NASA was offered to BSU students, Abby jumped at the chance.   
"It's NASA," they said. "Being a physics major, it's a big deal to be doing something with NASA, no matter how big or small it is."  
Knowing Abby's background is why Dr. Margaret Black, a computer science professor and department chairperson, recruited Abby as well as computer science major Lyra Brown to team up to participate in NASA's RockOn! workshop.  
Through the workshop, teams of three traveled to NASA's Wallops Air Force Base in Virginia to build experiments that were placed on sounding rockets and launched into space to gather specific data. The students used soldering techniques to build a circuit board to be placed on an already constructed sounding rocket.   
"There was a lot of checking and testing, it was very tedious work, but it was fun," Abby said.   
Once the circuit board was placed into a sounding rocket, the team members signed their names on the exterior and waited for lift off.   
Unfortunately, the weather didn't allow for BSU's rocket to launch in June. Instead, it was postponed to August.   
Black was able to travel back to Virginia to watch the launch.   
"Ours went up 116 kilometers, 16 kilometers past the border with space," she said.  
She was then able to collect the circuit board to bring back to BSU where she, Abby, and Lyra will analyze the data.   
While the students gained new knowledge, for Black, the project benefited her as a teacher.   
"This was a good experience for me, learning how to teach a complicated lab," she said. "Now I can come back to Bridgewater and apply it to projects I'm already working on...it revolutionizes the way I can teach a project-based course." 
According to Dr. Martina Arndt, interim dean for the Bartlett College of Science and Mathematics, the work and travel were funded by the dean's office in the Bartlett College of Science and Mathematics, Bartlett internship funding, and a NASA MA Space Grant. 
Do you have a BSU story you'd like to share? Email stories@bridgew.edu