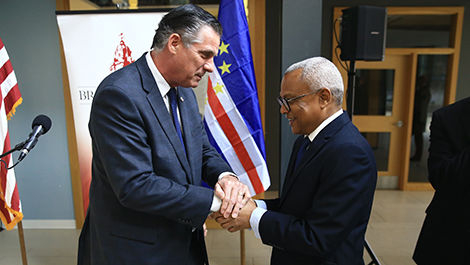 Story Series
Behind the Name
Credited with helping bring democracy to Cabo Verde, Pedro Pires became prime minister just three days into the African archipelago's new era as an independent nation. 
A longstanding public servant, he recognized Bridgewater State's role in supporting his country's development and forging connections with the large concentration of Cabo Verdeans living in southeastern Massachusetts.  
An institute that bears his name now plays an important role in accomplishing those goals. 
Named For
Former Cabo Verde President and Prime Minister Pedro Pires 
The Backstory
Pires served as prime minister from 1975 to 1991 and president from 2001 to 2011. 
He played a key role in securing independence from Portugal and helped usher in multi-party elections. As president, he stepped down after two terms. Unlike some African leaders, Pires refused to change his country's constitution to extend his tenure. 
BSU formed the institute in 2016 but the BSU-Cabo Verde connection stretches back more than 20 years.  
Bridgewater faculty and students have traveled to the African archipelago and Cabo Verdeans have come to BSU to attend workshops and earn degrees. BSU helped create the University of Cabo Verde, which is the country's first public university. Many of its professors are BSU alumni. 
The institute launched with a gala and fireside chat featuring three prominent Cabo Verdean politicians, including Pires. 
"The sharing and transference of knowledge is fundamental to development, and it's important to have an open world," Pires said then. "Education is the greatest weapon to transform a nation, as well as the world." 
Use Today
BSU maintains a strong relationship with Cabo Verde, including sending delegations to visit the country. Current president José Maria Neves visited Bridgewater twice during the 2022-2023 academic year. Meanwhile, the institute builds academic and social engagement with Cabo Verde and organizes lectures, a summer leadership academy and an undergraduate minor in Cabo Verdean studies. 
Material in this article comes from the Winter 2017 edition of Bridgewater magazine, the 2011 article "Cape Verde ex-leader Pedro Pires wins Mo Ibrahim prize" by the BBC and the 2022 BSU story "Cape Verde President Visits" by Brian Benson, G'23.