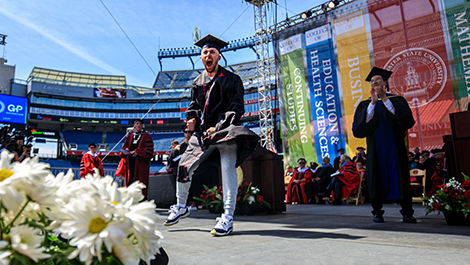 Do what you can in the moment, even if it seems small. I will not let the fact I can't do everything, keep me from doing what I can.
Music has long been a staple of Delainey Bostley's life, but she never imagined in her wildest dreams singing to her classmates in the same stadium as one of her musical idols, Taylor Swift.  
"It honestly means the world to me," said Delainey, a history major returning to BSU to pursue a second degree in music. "I feel very proud to be representing Bridgewater. … This is the biggest music-related opportunity I've had in my life."  
That moment came as Delainey performed "America the Beautiful" from Bridgewater State University's commencement stage at Gillette Stadium.
During two ceremonies on Saturday, approximately 1,700 graduates received bachelors' degrees. 
"In a few days, Taylor Swift will be here at Gillette," said BSU President Frederick W. Clark Jr., '83. "But while the fans in the stadium will be entertained from the stage at that concert, when our graduates cross this stage today, you will be transformed by what Nelson Mandela described as the 'most powerful weapon to change the world', an education."  
In line with BSU's school motto, "Not to be Ministered Unto but to Minister," honorary degree recipient Edward Lambert, G'84, spoke of the importance of service as graduates find as Swift would say, "a place in this world."  
"Service connects you to the community, it can take many forms...you can seek to create your service opportunities or let it find you. I do hope when the opportunity is there, you will choose to serve," said Lambert, who was elected at age 21 to the Fall River School Committee and has gone on to serve as the city's mayor and a state representative. 
Also receiving an honorary degree was former Chair of the BSU Board of Trustees Eugene Durgin, who sat on the board for more than 30 years; and New Bedford theater teachers and directors Armand Marchand, '66, G'70, and George Charbonneau, '66, G'70.  
Charbonneau told the class to "never die wondering," adding: "It is best to attempt something and fail than to say, 'I wonder what would have happened?' The failure comes with great knowledge and, sometimes, the best successes you'll have in your life."  
The crowd roared loudest when former Boston Red Sox star, David "Big Papi" Ortiz shared a recorded message on the jumbo screen, echoing the now-famous comments he made in the wake of the Boston Marathon bombings.  
"Bridgewater State University, this is your (expletive) commencement!"    
Ortiz followed up his famous catch phrase, reminding students to take advantage of their opportunities.     
"Don't ever lose your focus, don't let anybody dictate your goals," he said. "Congratulations and to all the students, every day is a great day to be a bear! God bless you all."    
Student speaker Paulina Aguilar Delgado, a criminal justice major and psychology minor, recounted how the class has been shaped by world events including the pandemic, mass shootings and terrorism. Yet this class is ready and willing to fight and advocate for equality, inclusion and justice.  
"In a reality full of uncertainty, we have managed to do what once seemed impossible and what few are able to obtain – a college degree," said Paulina, who moved from her native Mexico to Massachusetts just before starting at BSU.  
Fellow student orator Roslyn Dobyna who majored in special education and sociology, acknowledged the unique circumstances on the journey to graduation.   
"Courageous is the route we all took the last few years. Courage is what kept everyone connected and dedicated to their education," she said. "If we can get through that, we can make it through everything. Do what you can in the moment, even if it seems small.  
"I will not let the fact I can't do everything, keep me from doing what I can."   
Carrie Provost, a criminal justice and English major with a minor in Indigenous studies, is ready to help those living on South Dakota's Pine Ridge Indian Reservation, which is one of the most impoverished places in the U.S. 
A BSU education "really helps me to be my best self to go and help my people when I go back," Carrie, who grew up on Pine Ridge, said before processing onto the field.
Graduating at iconic Gillette Stadium was a thrill for Carrie and many other graduates.   
"I've never been to Gillette before," Kevin Ross said with a smile. "Having this be my first time, and to get to walk across the stage on the field, it's a great experience."  
Kevin had 15 of his family members, including his mother who flew in from Texas, cheering him on from the stands as he collected his degree in health sciences.  
Elizabeth Cheesman, an elementary education major, added: "It's a place for people to come together and celebrate things, and today we get to celebrate us."   
Do you have a BSU story you'd like to share? Email stories@bridgew.edu.