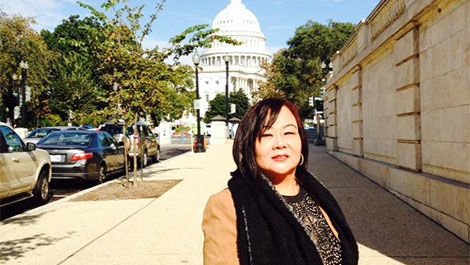 Everything I learned from Bridgewater I put into my work. It was an academic program, but it taught me a lot of practical skills.
My Lan Tran, '79, stepped onto the Bridgewater State campus just a few months after fleeing her native South Vietnam amid fears for her safety under a new communist regime. She didn't even speak English well.  
But Tran, who came to the U.S. at age 18 with her father and sister as a refugee, was committed to her studies and aspired to use her education to help others facing adversity. Bridgewater, she said, was the springboard that made that dream a reality.  
"Everything I learned from Bridgewater I put into my work," said Tran, who studied French and political science. "It was an academic program, but it taught me a lot of practical skills."  
Tran's family settled in Massachusetts because her father recognized the higher education opportunities available there. And Tran took full advantage, using her degree to launch a multi-decade career in workforce and business development in Massachusetts and Virginia. She received a 2023 Women in Leadership Award from Virginia Business magazine for running the Virginia Asian Chamber of Commerce.  
At first, Tran felt overwhelmed at Bridgewater. But she had the courage to ask faculty and peers for help and she found mentors such as Stephen Ryer, who worked in the Registrar's Office and advised international students.
She became vice president of the International Student Association and bonded with students from China, Lebanon and Iran. Foreign students were a less prominent part of American higher education then, but Bridgewater "already had that mindset that we've got to nurture these international talents," Tran recalled.  
Her professors recognized the challenges that came with pursuing higher education as a non-native English speaker.    
"They knew I was an international student, so they did everything to help me navigate the learning barrier," said Tran, who received scholarships from then-President Adrian Rondileau. "They were more understanding."  
Brockton's Gethsemane Lutheran Church offered additional support, including raising $87 (a substantial sum in those days) at a yard sale to pay for textbooks.  
Tran, who studied abroad in France, credits her time at Bridgewater with improving her communication skills and confidence. She then attended graduate school at Monterrey Institute of International Studies and managed a Massachusetts program that helped workers chart their careers and find jobs after being laid off.   
In Virginia, she supported multicultural businesses while working for the City of Richmond and became executive director of the Virginia Asian Chamber of Commerce 12 years ago. Today, she supports and advocates for more than 187,000 Asian American-owned enterprises in the state as well as businesses across the Southeast.  
Those constituents include recent immigrants who feel similar emotions to those Tran experienced upon arriving in America. Now, Tran is the mentor as she takes a page from the actions of the people she met at Bridgewater.   
"It's a full circle," she said. "I came back to where I belong but with 40 years of experience behind me. I went back to serve my community."  
Do you have a BSU story you'd like to share? Email stories@bridgew.edu.