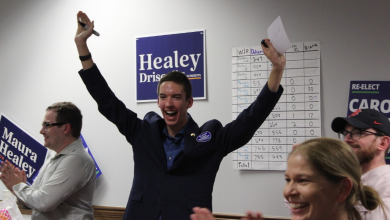 I think it's important to never underestimate the young people of this country, we are speaking up right now...we are taking action.
When looking back at last year Evan Francis, '25, is quick to describe it as "incredible."
"I'm very proud of all that came out of 2022," the Bridgewater State University political science major said.
From transferring schools, to successfully running a local political campaign, Francis was busy.
After completing his freshman year at a different institution, Francis transferred to BSU.
He wanted a school that was easy to commute to from his Taunton home and had also heard good things about the university's political science program.
"I did live on campus at my other school, so I wasn't sure I'd like commuting at first, but I'm very happy with my decision. Bridgewater offers a really good support system for commuter students and transfers," Francis said.
He also found a layer of support from his professors.
"Especially during a chaotic time, of transitioning to a new school, all of my professors have been flexible. They are always there to talk and assist you when needed," Francis said.
That flexibility and understanding meant even more when Francis took on the role of campaign manager for Massachusetts State Representative Carol Doherty last year.
Francis credits Doherty, whom he met as a student at Taunton High School when Doherty served on the school committee, as the inspiration for his pursuit of a career in politics.
"She was the first person to get me interested in politics and public policy," he said.
In 2020, he volunteered to help with Doherty's winning campaign. His efforts must have impressed her, because Doherty reached out and asked Francis to run the entire 2022 campaign. Being relatively young and a college student wasn't a deterrent.
"I was able to show anyone who had any doubts about my age that I could get the work done," Francis said. "I wasn't just a volunteer; I was in charge. Thankfully, I had a very good team, and we were able to get Carol over the finish line again, and this time we won with 57 percent of the vote."
He admits balancing school and work at times was tricky but having the right supports in place made it possible.
"I was lucky to have a good selection of classes at BSU, where I could make the schedule work," Francis said. "My professors were thrilled to help and were not only supportive of me as a student in general, but also the work I was doing."
As he continues his academic career at BSU, Francis plans to take advantage of the opportunities when presented to him, including an internship last summer in the office of Congressman Jake Auchincloss.
"Working there, it confirmed this is what I want to do with my life...I want to bring about change," he said, adding, "I think it's important to never underestimate the young people of this country, we are speaking up right now...we are taking action."
Do you have a BSU story you'd like to share? Email stories@bridgew.du