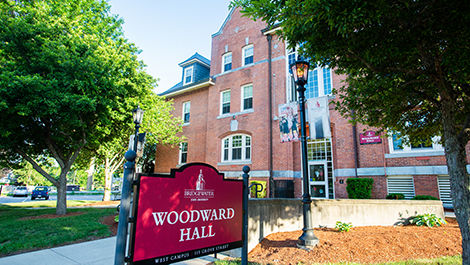 Story Series
Behind the Name
Eliza Woodward was a pioneer and an inspiration.  
One of the first female faculty members at Bridgewater, Woodward never missed a day of work due to illness and won the respect of the thousands of students who she taught. Today, her name is associated with a prominently located residence hall.
Named For
Eliza Woodward, Class of 1857 
The Backstory
Woodward began her 30-year tenure as one of Bridgewater's first female teachers shortly after she graduated from Bridgewater State. 
A native of Haverhill, New Hampshire, Woodward showed so much promise as a student that then-principal Marshall Conant invited her to be his assistant. She went on to teach a variety of disciplines, including reading and drawing.  
Students regarded her as a motherly figure who offered unwavering support. 
Her "calm dignity and encouraging sympathy lent aid to students' attempts to solve geometric and perspective problems in Walter Smith's drawing books," wrote Clara Wing, a member of the Class of 1878, in a history of the university publication. 
Woodward developed cancer in the 1880s and resigned because of the illness just a few months before her 1887 death. Her former classmates and students served as pallbearers for the funeral, which was held at Central Square Congregational Church in Bridgewater. 
The current Woodward Hall is the second building to bear her name. The original Woodward dormitory (also known as The Cottage) burned in a massive 1924 fire that destroyed much of the campus.  
Today's Woodward Hall, built in 1911 for $175,000 to provide much-needed additional housing, was initially known as the New Dormitory for Women and renamed in honor of Woodward in 1917. The building hosted temporary classrooms in the aftermath of the fire.  
Use Today
Located on the west side of campus next to the Boyden Quad, BSU's oldest residence hall has undergone many renovations over the years. It houses 239 first-year students, who live in double, triple and quad rooms. Six resident assistants provide leadership in the hall. 
Material in this article comes from As We Were: 1840-1940, Not to be Ministered Unto, But to Minister: Bridgewater State University, 1840-2010 by Dr. Thomas R. Turner, and A History of the Parker-Gates House and its First Four Residents to 1925 by Dr. Benjamin A. Spence.