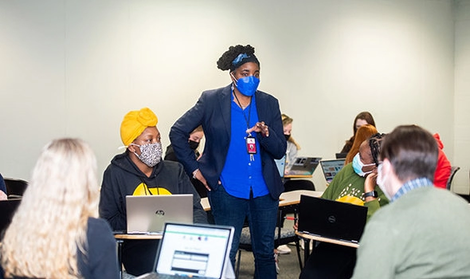 "We all have a responsibility to make these changes so one day we can see a different BSU."
Associate Professor, School of Social Work
Story Series
Action: Racial Justice and Equity
Change isn't easy.
This can be especially true of the kind of equity-minded institutional transformation that Bridgewater State University is hoping to implement as a result of the work done by members of the President's Special Task Force on Racial Justice.
Dr. Castagna Lacet, an associate professor in the School of Social Work, knows firsthand the challenges incumbent in this work. As one of three equity faculty fellows at BSU, it's her job to help faculty members and librarians plan, carry out, and support efforts to embed racial justice and equity in their pedagogy.
"This has to be done with a lot of intentionality," Dr. Lacet said. "It goes beyond just saying the right words or learning certain phrases, but instead coming to a full understanding of what this work means and what it entails."
In other words, things like simply tweaking one's syllabus with an eye toward using examples of equity-minded language will not lead to real, systemic change.
"Things like that are really very superficial because they don't change how we see or think about our students from minoritized backgrounds," Dr. Lacet said.
Her focus on faculty and librarians is key. Research has shown that faculty interaction is the most important factors in student success and retention. The work of Kimberly A. Costino, director of semester conversion and professor of English at California State University, San Bernardino, demonstrates that, "If institutions are serious about equity and about transformation, then they are obligated to provide professional development that will support the learning necessary for faculty to fulfill these important roles…"
This is where Dr. Lacet comes in. Working out of the Office of Teaching and Learning, she's developed what she calls Personal to Professional Development Framework, a "scaffolded program of professional development in racial equity and justice" geared toward full- and part-time faculty, librarians, administrators and staff.
"In terms of the framework, I tell them let's first start by understanding the systemic issues, the institutional problems that have existed long before any of us walked through the doors at BSU," she said. "We didn't create the inequities, but we can be involved in dismantling them."
Meeting on campus with groups large and small, and dealing with some faculty members on a one-to-one basis, Dr. Lacet helps them examine their own beliefs and the ways they interact with different students. Eventually, she helps faculty members develop and embed equity-minded practices in their pedagogy, as well as in their policies and procedures.
"I begin by showing what are the tools and how they can be used and why they are necessary," she said. "It's best having a stepwise approach. We don't learn these things in graduate school. Becoming professors, we're not taught the fundamentals of teaching a diverse population. So it's not a surprise that we don't know how to do it. And that's totally OK."
This fact notwithstanding, Dr. Lacet believes that everyone has a stake in this important work.
"We all have a responsibility to make these changes so one day we can see a different BSU," she said.