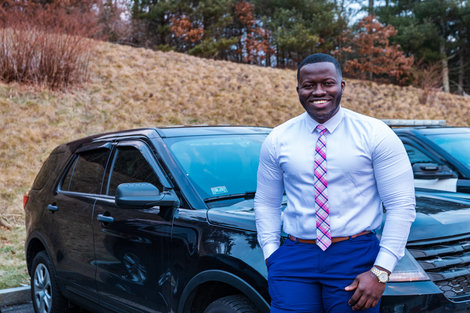 "My goal is to work with the BSU police department, outside organizations, students, faculty and staff to help establish trust."
Story Series
Action: Racial Justice and Equity
Ask Aboubacar Diakite to sum up his job as the BSU Police Department's community liaison, and the first thing he is likely to mention is the Racially Just Policing Model Policy developed by the university in conjunction with the ACLU of Massachusetts.
The model's guidelines and recommendations, which have been given the blessing of the police and public safety subcommittee of the Special Presidential Task Force on Racial Justice, have directed Mr. Diakite's work since he began the job in January. In fact, one of the model's recommendations was the creation of the very position he now holds.
"My goal is to work with the BSU police department, outside organizations, students, faculty and staff to help establish trust," he said during a recent interview. "In order for us to bridge gaps between the BSUPD and students, there has to be some level of trust there."
Officially, Mr. Diakite's job description involves helping bridge the gap that can sometimes exist between the BSUPD and members of the community they serve. The recommendations that BSU officials and the ACLU put forward include developing community-driven policing practices, building trust and transparency, reckoning with law enforcement's history of racial injustice, creating alternative emergency response options for mental or behavioral health issues on campus, and establishing regular assessment of encounter and arrest data.
The overarching goal is to help BSU achieve a more welcoming and supportive campus community.
BSU Police Chief David Tillinghast said Mr. Diakite's role will help the department further develop and maintain trust and understanding, especially with students of color.
"We need to bridge the divide we know exists between law enforcement and communities of color … and we need specialized approaches to serving diverse students and groups," the chief said.
Mr. Diakite's days can involve anything from meeting with students individually or in groups, to conferring with members of the BSU community facing difficult challenges, to serving as advisor to the Haitian American Student Association and African Student Association, and much more.
Then there are the bigger-picture initiatives he's undertaken.
Taking his cue from the BSU-ACLU just policing model, Mr. Diakite put together a student advisory board to work with the campus police. A recent meeting saw 10 students taking part in what he's dubbed the Chief's Student Advisory Board, of which he is chairman.
He also developed something he calls Circle Time. Every other Tuesday, Mr. Diakite invites students to meet with him in East Campus Commons to discuss whatever is on their minds. Not only does he get to hear their concerns, the bi-weekly events give students a forum where they can ask and say anything they'd like.
"I do feel we are losing our sense of community, especially with social media, no one's listening to each other anymore," he said. "I let them know I am here for every student, no matter where they come from or what their culture or background or sexual orientation may be. I see them as an individual, and I am here to do anything I can to help."
A recent Tuesday session included a visit by one of the BSU police dogs. Activities like this help students to relax and feel at home on campus, Mr. Diakite said.
"Students were being so open and talking about their personal lives," he said. "I think giving them the opportunity to talk is important; they need to be given a chance to tell their stories."
Campus police officers often take part in the Circle Time sessions, resulting in positive outcomes, Mr. Diakite said.
"I've noticed the students are now more receptive to the police and the work they do on campus," he said.
The other key initiative is something he simply calls Building Bridges, and that's what it's all about. Whether it's reaching out to various academic departments on campus or to local law enforcement organizations, the goal is to forge connections that help students learn more about policing and related matters. He brought together members of the BSUPD with faculty from the Department of Criminal Justice, and he has involved the Plymouth County Sheriff's Department, as well. Thus far, visiting lecturers have spoken to criminal justice classes, multiple exchanges between students and law enforcement professionals have taken place, and students took part in a field trip to a local jail.
"I want to make sure our students are exposed to these things," Mr. Diakite said. "It's all about bridging the gap."
Recently, he used his many connections derived from his previous positions in social work, the judicial system and law enforcement to help a student secure an internship with the Suffolk County District Attorney's Office. Mr. Diakite lights up when he talks about this aspect of his work.
"I am not here for any recognition. I took this job because I am committed and care; I want to make a difference," he said. "That's the energy I put out there, and students know they can come to me with anything."
Looking to the future, Mr. Diakite is working on crime prevention strategies for the campus, and surveying students about their safety needs and concerns, in addition to finding ways to simply make Bridgewater State University a better place.
"My main message is to be kind to one another and always respectful," he said.