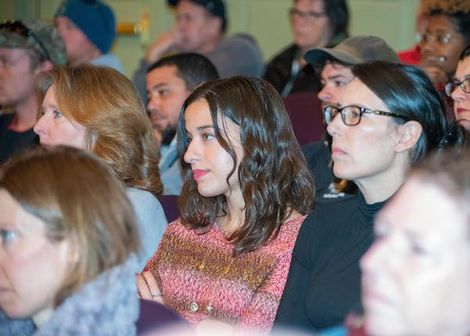 "The goal is to prompt people to be mindful of equity and inclusiveness during the search process."
Vice President of Human Resources and Talent Management
Story Series
Action: Racial Justice and Equity
To be effective, equitable hiring practices must begin long before any job candidate arrives on campus for a first interview.
Realizing this, Bridgewater State University's Human Resources and Talent Management (HRTM) team, in partnership with the Division of Student Success and Diversity and the Office of Equal Opportunity, developed a new approach that makes equity and inclusiveness part of the employee search from the start.
Recently instituted, the equity-minded search committee orientation is now a mandatory first step for anyone on the front lines of the hiring process, be it for staff, administration, faculty or librarian positions. Every member of every BSU search committee must go through the equity orientation once a position is posted and advertised, but before the search process gets underway.
"The goal is to prompt people to be mindful of equity and inclusiveness during the search process," said Keri Powers, vice president of HRTM. "It's been a very helpful tool."
The Special Presidential Task Force on Racial Justice found that the university needed to "address the deficiencies found in the representation of faculty, librarians, staff and administrators of color." Three of the resulting recommendations of the task force's workforce subcommittee set an aspirational goal of increasing by 20 percent the number of faculty, staff and administrators of color.
However, racial diversity is just one piece of the picture, Ms. Powers added. Being truly inclusive means that any and all underrepresented groups must be addressed in BSU's approach to attracting job candidates.
The equity orientation sessions deal with defining such ideas as diversity, inclusion and equity to ensure that search committee members are operating from an established set of definitions. BSU's mission and values are outlined, as well as the various ways that the institution can offer an inclusive and welcoming community to all.
"We want to exemplify these things in our hiring process," Ms. Powers said.
Impediments such as implicit bias are also dealt with, as are state and federal laws guiding fair and equitable hiring practices.
Another related change is the use by HRTM of equity-minded language in job postings and ads. The hope is that how open jobs are described will appeal to a wider range of individuals, therefore leading to greater variety in the applicant pool.
"The overall impact has been the creation of a very positive dialogue about what our policies are and how we can do better in attracting and retaining a diverse workforce," Ms. Powers said.