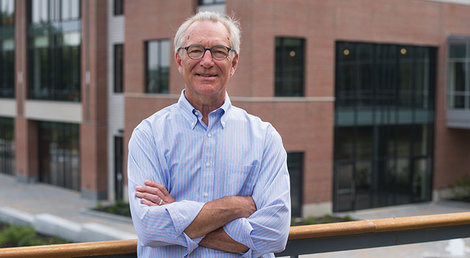 One thing I've demonstrated is that if you work hard, you can achieve whatever you want through education.
Story Series
Bridgewater Magazine
Joshua Hamilton is the new provost, vice president and senior vice president for academic affairs at the University of New England, with campuses in Portland and Biddeford, Maine.
Dr. Hamilton's resume reveals a long list of accomplishments spanning 40 years in the field of higher education, and he said it all started at Bridgewater State.
"Going to Bridgewater was crucial for me. It was the single most important thing I did," he said. "Bridgewater has always been a school of opportunity. In my 40 years in higher education, the institution has provided some of the best teachers I've encountered in my career. … They are dedicated to students' success."
His career as an academic leader actually happened by accident. After graduating from Old Rochester Regional High School in Mattapoisett, Dr. Hamilton found himself working the third shift at a printing company in Providence making paper cups. After a couple months, a supervisor approached him and promised that if he kept working hard, one day he might become the assistant manager. "I thought, what a dismal idea," Dr. Hamilton said.
Motivated to find a new direction in life, he reached out to his former high school principal, David Hagen, for advice. After Dr. Hamilton shared his dream of studying the sciences, with a focus on biology, followed by research and graduate school, Mr. Hagen advised him to seek out a school for his undergraduate work that focused on personal attention to students. That's when Dr. Hamilton discovered Bridgewater State.
"Having that opportunity at a price point I could afford … I got a fabulous education," he said.
As an undergraduate, Dr. Hamilton commuted to campus from New Bedford and worked 30 hours a week delivering milk. His tenacity paid off when he earned a bachelor's degree in biology.
"I got an awesome education, and that was very clear when I applied for graduate schools," Dr. Hamilton said. "I got into every school I applied to."
He opted to attend Cornell University in Ithaca, New York, where he earned both a master's degree in genetics and a doctorate in toxicology. Dr. Hamilton credits his BSU education for preparing him for Cornell. "I found I was better prepared with my undergraduate curriculum than those from larger, more prestigious schools," he said.
Armed with his degrees, Dr. Hamilton began his career in higher education. He started as a faculty member at Dartmouth College and Dartmouth Medical School in Hanover, New Hampshire, where he also served as founding director of the Center for Environmental Health Sciences and associate director of the Norris Cotton Cancer Center.
He left Dartmouth in 2008 to work as chief academic and scientific officer at the Marine Biological Laboratory in Woods Hole, a position he held until 2013. While there, Dr. Hamilton also served on the BSU Scientific Advisory Board under former President Dana Mohler-Faria and witnessed the construction of the $98.7 million Mohler-Faria Science and Mathematics Center.
When Dr. Hamilton's children, Ross and Kelsey, finished their educations and entered the professional world, he saw it as a pivotal point and searched further for career opportunities. "I had reached a point where I knew I liked serving in a leadership role where I could help faculty and students be successful," he said.
The next leg of Dr. Hamilton's journey took him and his wife, Melissa, to the Midwest where he served as dean of the Swenson College of Science and Engineering and as a professor of biology at the University of
Minnesota Duluth. After three years there, Dr. Hamilton said he missed New England and began looking for opportunities back East.
He was hired last year as the provost/vice president for academic affairs at Rhode Island College, where he intended to stay, until, what Dr. Hamilton calls his "dream job," the position at the University of New England, opened up.
"It's an innovative place," he said. It also offers him the chance to work with and help undergraduates through curriculum reform. "… At the undergraduate level, you can literally transform students' lives," Dr. Hamilton said.
Dr. Hamilton encourages current BSU students to learn to adapt to change and appreciate the opportunities the university provides as they plan their futures.
"One thing I've demonstrated is that if you work hard, you can achieve whatever you want through education," Dr. Hamilton said. "At Bridgewater State University you will receive a high-quality education. It's really up to you to take full advantage."
Do you have a BSU story you'd like to share? Email stories@bridgew.edu.