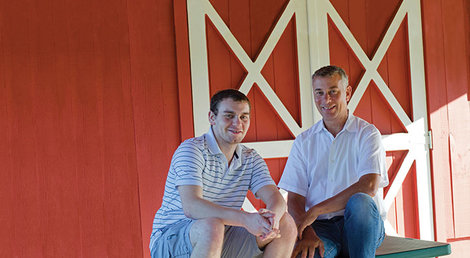 Everyone has challenges, and if I can make someone's life less challenging, why not help out?
Story Series
Bridgewater Magazine
Roy Noepel is one of those people who can be counted on when help is needed. From volunteering with a conservation site, aiding a food pantry and a theater group, to regularly traveling to Boston to donate platelets, the Norwood resident is always ready to lend a hand.
"Everyone has challenges, and if I can make someone's life less challenging, why not help out?" Mr. Noepel said.
As for his greatest act of giving – donating a kidney last year to a total stranger – he didn't have to look far for inspiration. First, he'd read an online news story in the summer of 2016 about an area woman in desperate need of a new kidney. Meanwhile, his son Eric '19, has for 17 years lived with Type 1 diabetes, a disease known to adversely affect kidney function, and all that time Mr. Noepel has watched his son test his blood sugar multiple times a day and inject himself with insulin.
"I thought, if he can do that, why can't I do this?" he said.
"This" – donating a kidney – was something only close friends and relatives usually do. In fact, too few people do it. There are 123,000 Americans currently on the waiting list for a lifesaving organ transplant; more than 101,000 need a kidney, but only 17,000 people receive one each year. The stark upshot of these statistics is that 12 people die each day in this country waiting for a kidney.
It's clear the world could use more people like Mr. Noepel.
Though he was originally slated to donate his kidney to the woman he'd read about online, it turned out that doctors found her a better match. So, he waited. During this time, he never told his family about his plans. "I didn't want them trying to talk me out of it," he said with a smile.
At last, Mr. Noepel was matched with a transplant patient, and in February 2017, surgeons at Tufts Medical Center in Boston removed one of his kidneys to transplant into a woman whose kidneys were failing, saving her life.
On a late summer afternoon sitting at a picnic table with his son at Adams Farm in Walpole, where he serves as president of the citizen's group that supports the 700-acre conservation site, Mr. Noepel talked about his days at what was then Bridgewater State College. A management science major, he was influenced by the late Paul Prescott, a special education professor who was a noted advocate for children with developmental disabilities and an Army veteran with 30 years of decorated service, including the Legion of Merit award, presented for his "dedication and exceptional leadership." "He was a great influence on me," Mr. Noepel said. "I'm just carrying it on."
Mr. Noepel, in turn, is now influencing his son.
"I was surprised when he told me what he was going to do," the young man said, "but I know my dad. He takes leaps. It just tells you what a nice person he is."
Mr. Noepel is sharing his story for one reason: He hopes to inspire others to follow his lead. "Hey, if I can do it, anyone can," he said.
Modesty is another of his traits.
"I'm not trying to prove anything," he said. "I just wanted to help someone in need."
Statistics above courtesy of the National Kidney Foundation. More information at www.kidney.org
Do you have a BSU story you'd like to share? Email stories@bridgew.edu.