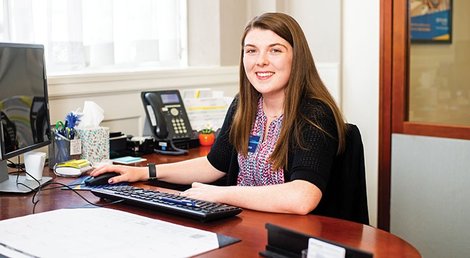 Typically, we have found that they are great career-oriented candidates. We have seen many promoted within the first year of employment, based on their drive and educational background.
Shannon Errico, Rockland Trust Employment Specialist
Story Series
Bridgewater Magazine
Walk into the office of Rockland Trust and you'd be hard pressed not to find a Bridgewater State University graduate. The regional bank has more than 100 Bears on staff.
"Typically, we have found that they are great career-oriented candidates. We have seen many promoted within the first year of employment, based on their drive and educational background," said Rockland Trust Employment Specialist Shannon Errico. "They also have great business, finance and accounting programs at Bridgewater."
Kristen Orsini, '17, relationship banker for Rockland Trust, agreed. "BSU helped prepare me for my current position through exposure in multiple field experience requirements necessary to obtain my degree. My internships gave me the experience, the confidence and the diverse skill set to begin my career in the professional world," she said.
Rockland Trust is the sole banking subsidiary of Independent Bank Corp. It provides services to both businesses and residents in Eastern Massachusetts and Rhode Island, and recruits and hires between five and 10 BSU graduates every year.
From business and finance to nonprofit and aviation, employers are happy to share the reasons why they recruit and hire BSU graduates. Most of these companies attend the university's regular career and internship fairs run by the Office of Career Services, where many first connections are made.
Boston investment firm State Street Corporation also praises the university's ability to produce quality candidates.
"BSU graduates come prepared with previous work or internship experience and a strong work ethic," said Justin N. McNeely, campus relationship manager. "We see the value in hiring BSU grads because we feel their contributions make an immediate impact. Many whom we have hired in the past have joined State Street and had very successful careers here."
Massachusetts-based MEDITECH always looks to Bridgewater State University when recruiting, according to the company's recruiter, Bryson Michael. Since 2013, MEDITECH has hired 485 BSU alumni, and, currently, nearly 250 work for the software and service company.
Ms. Michael credits BSU's Office of Career Services team for successfully helping students transition from the university to the workforce. "BSU graduates are professional, and when we engage with them it is clear they have done their research about the company and our industry," Ms. Michael said. "Additionally, they seem to value a stable company such as MEDITECH that offers room to grow and promotes from within. Many Bridgewater students are eager to get out into the world and make a positive impact, so our mission aligns nicely with their goals."
Rob Lemoi, recruiter and trainer for the Key Program, Inc., also praises BSU's Career Services staff members and their ability to effectively assist students with securing employment. "This is evident in the quality of resumes we receive, as well as their preparation for job fairs and interviews," Mr. Lemoi said.
The Key Program, Inc., a nonprofit organization based in Framingham with offices throughout Massachusetts and Rhode Island, works with troubled youth and their families, and provides resources to assist in developing positive life skills and experiences.
One of the main reasons the organization recruits potential interns and employees from BSU is because of the university's strong social work, psychology and sociology undergraduate and graduate-level programs. "Graduates from these programs seem well prepared and motivated to begin this type of work," Mr. Lemoi said.
Levi Carroll, the pilot pathway recruiter for Cape Air, looks to the BSU aviation program when seeking new recruits to fly the company's planes. "The pilots that we get through the program are some of the most well-prepared pilots in the nation," he said.
The airline operates out of Barnstable and has more than 25 BSU alumni on staff in both pilot and nonpilot positions.
"As a company, we pride ourselves on giving job opportunities to institutions like Bridgewater. We have had great luck in hiring from BSU," Mr. Carroll said. "It is very important for us as a local airline to employ local students and pilots."
As a partner at BlumShapiro, a business advisory firm based in New England, Christopher Ernest, G'07, can speak firsthand about the benefits of earning a Bridgewater State degree. "Going into Bridgewater, I didn't know what to expect, but I was very impressed," Mr. Ernest said, adding that BSU professors and class content helped prepare him for the Certified Public Accountant (CPA) exam.
"They had a good knowledge of what the educational requirements are to become a CPA," he said. "Bridgewater students have some of the highest pass rates on the CPA exam. It's much higher than other schools."
Mr. Ernest often looks to BSU to find potential employees. He echoes what other companies and organizations have to say in regard to hiring candidates who have graduated from Bridgewater State University.
"BSU graduates have many attributes that we look for in an employee," Mr. Ernest said. "Many of them work throughout their educational careers and balance work and school, which is impressive."
Because of this, they are often ready to jump in and hit the ground running. Being a Bear traditionally means an applicant brings a strong academic background and has the right qualifications to make an impact, he said, adding, "They have an incredible work ethic, and come to our firm with the drive and desire it takes to be successful."
Do you have a BSU story you'd like to share? Email stories@bridgew.edu.