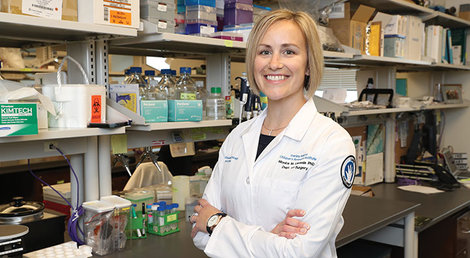 They are healthy, and everything is falling back into place, but they can't have biological children. … That's what resonates with me and motivates me.
Dr. Monica M. Laronda, '04
Story Series
Bridgewater Magazine
Children who undergo harsh cancer treatments often experience side effects that may not manifest for years, including long-term fertility problems.
Dr. Monica M. Laronda, '04, is researching ways to help address these issues.
The Freetown native is director of basic and translational research for the Fertility and Hormone Preservation and Restoration program at the Ann & Robert H. Lurie Children's Hospital of Chicago.
Through her research, she has helped develop a 3-D printed bio-scaffold containing ovarian follicles. Using mice, Dr. Laronda has successfully tested the scaffold and proven it's possible to create a synthetic ovary that mimics and functions as a healthy one.
The overall goal is to use these results to support systemic endocrine function and fertility in women and girls with premature ovarian failure as a result of cancer treatment or those who have disorders of sex development.
Often when parents are presented with a plan to treat their children diagnosed with cancer, reproductive health is not considered. But when talking to adult cancer survivors, some suffer from post-traumatic stress disorder symptoms because of fertility issues.
"They are healthy, and everything is falling back into place, but they can't have biological children. … That's what resonates with me and motivates me," Dr. Laronda said.
Her work doesn't just address reproductive health, but also has the potential to restore hormone function to help ward off premature menopause. Studies show that girls who experience early menopause develop cardiovascular issues, osteoporosis, a decrease in muscle strength and in overall health.
"It is not standard clinical care yet, but for those who opt to preserve their tissue, we do offer a procedure to take one ovary out for children at high risk," Dr. Laronda said.
There have been reports of more than 130 children born after transplanting cryopreserved ovarian tissue back into the same patient. "However, many of our patients would not qualify for this procedure, as they may have cancer cells inside their ovary tissue," Dr. Laronda said. "This is why we need to create a better way to restore function. Hopefully we can provide better options for these patients when they are ready for it."
Dr. Laronda is also the Warren and Eloise Batts Scholar at the Stanley Manne Children's Research Institute and the Department of Surgery at Lurie Children's Hospital, and assistant professor in the Department of Pediatrics at the Feinberg School of Medicine at Northwestern University in Chicago.
She became inspired to study this emerging field after taking part in a reproduction course at the Marine Biological Laboratory in Woods Hole while an undergraduate at Bridgewater State. It was Dr. Jeffery Bowen, a professor in BSU's Department of Biological Sciences, who introduced her to the opportunity.
In order to work as an assistant in the course, Dr. Laronda completed her senior-year finals early. "It was a really great, intense course, and I was happy to be part of the support staff," Dr. Laronda said.
During her six weeks at Woods Hole, she was introduced to and networked with 70-80 scientists, all professors who taught classes in both lecture halls and labs.
Prior to this summer job, Dr. Merideth Krevosky, chairperson of the Department of Biological Sciences at BSU, suggested Dr. Laronda consider Northwestern University for her graduate degree. Through her connections at Northwestern, Dr. Krevosky set up interviews there for Dr. Laronda.
"She had done her postdoc there and thought I should investigate the school … it was obviously a good fit," Dr. Laronda said.
She's come a long way since working as a bank teller while being a full-time student at Bridgewater State. Today, Dr. Laronda is considered a leader in her field and was recently featured in the May 2018 Modern Luxury Chicago Social Magazine's "Dynamic Women" issue. Her research was also ranked 36 in Discover magazine's "Top 100 Stories of 2017."
Dr. Laronda and her husband, Aaron Brown, a high school astronomy and physics teacher, have made Chicago their home. She plans to continue her research at Lurie Children's Hospital and hopes it one day will make a difference.
For BSU students struggling to find their path in life, Dr. Laronda encourages them to reach out to the campus community and to make connections. If she hadn't been exposed to the fertility course at Woods Hole, she might never have found her passion.
"Talking to Dr. Bowen and Dr. Krevosky really helped me, and they were very influential mentors. It's important to find mentors, make your career goals known and to talk to different people about it," said Dr. Laronda. "They may be able to offer insight or put you in contact with someone who has had similar experiences. Be open to different experiences; it could lead to surprising connections."
Do you have a BSU story you'd like to share? Email stories@bridgew.edu.