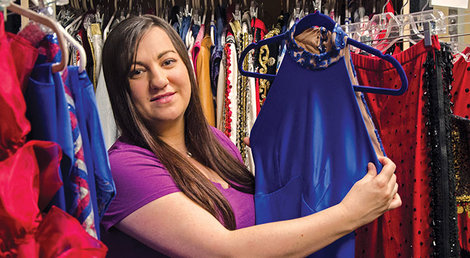 Everywhere I go is an opportunity to teach something and to learn something new myself.
Story Series
Bridgewater Magazine
Emily Baldwin didn't realize when Bridgewater State Theater Professor Henry Shaffer called her backstage one day during her sophomore year that her life was about to take an exciting turn.
"I was in the costume shop because something needed an alteration," the Northampton native recalled. "I told him, 'I can do that myself.'"
And so she did.
Seeing this previously unknown skill set in Ms. Baldwin, Professor Shaffer not longer after made an important connection for the fledgling seamstress, helping her land a temporary job with a summer theater in Montana. "I learned a lot in a short period of time," Ms. Baldwin said.
That job, and many that have followed over the past 13 years, have made her a much-sought-after star dresser and wardrobe manager in the world of professional theater.
Sadly, Professor Shaffer, who served as both a faculty member and chairperson of the Department of Theatre and Dance, died in 2008, but his legacy lives on in the many students whose passion for performance arts he helped convert into lifelong pursuits and careers. Ms. Baldwin is among those fortunate ones. "He was just amazing," she said. "He saw things in people."
During a Saturday morning last spring backstage at the Boston Opera House, where she was serving as the star dresser for the touring production of On Your Feet!, Ms. Baldwin recounted how she has worked on Broadway and backstage at theaters around the country. Her list of credits includes wardrobe supervisor for A Christmas Story: The Musical Tour, wig supervisor for The Music Man and Cabaret at The Cape Playhouse in her native Massachusetts, and hair and makeup supervisor for a nine-month national tour of West Side Story. She's also worked in and managed various costume shops attached to productions in Massachusetts, Nebraska, Connecticut and Florida.
It's the kind of profession that's often learned on the job from experienced colleagues, and by watching and doing. "In the smaller shops, you really get to try different things," Ms. Baldwin said.
Networking is key. When On Your Feet! was on Broadway, she was hired on as one of the show's dressers. The job came by way of an acquaintance already working on the Great White Way who needed help one day doing the cast's laundry. One thing led to another, a connection was made, and just like that, Ms. Baldwin was heading for a Broadway gig herself.
It's an itinerant life – she's worked in every state except Hawaii and Alaska – but it suits the outgoing and multi-talented Ms. Baldwin, who maintains a "home base" in Northampton and sublets a place in New York. "These are just the things you have to do," she said. "Anyway, I enjoy the traveling."
On Your Feet! is what's known as a "jukebox musical," a presentation featuring previously released popular songs. The Tony-nominated show tells the story of husband-and-wife team Gloria and Emilio Estefan. Ms. Estefan is a pop star famous for the Afro-Cuban hits "Rhythm is Gonna Get You," "Get on Your Feet" and "Conga."
When the touring company took the show on the road, Ms. Baldwin was promoted from dresser to star dresser. This meant being responsible for dressing each of the three women who appeared in the role of Gloria Estefan.
The job entails everything from making sure the wardrobe is cleaned after each performance to being certain that every part of each "Gloria" outfit is put in place for quick costume changes (sometimes onstage or just offstage in the wings). Ms. Baldwin is also responsible for repairs and touch-ups to costumes: painting shoes, gluing on rhinestones, and sewing up rips and split seams, to name a few.
The main character in this show changes into dozens of costumes along with matching shoes and accessories. To those whose exposure to theater is restricted to audience member, hearing about all the pieces a dresser has to keep track of and have ready for quick changes can be overwhelming. Even Ms. Baldwin gets uptight sometimes. "Every once in a while I'll think, 'Did I do this or that?' 'Did I forget something?'" she said.
Clearly, not much gets by her, otherwise, she wouldn't be enjoying the level of success she's achieved. As for working on Broadway, Ms. Baldwin is nonplussed. "It wasn't that I said I had to get there, but I loved it," she said.
In fact, one of her more memorable jobs was with a touring production of A Christmas Carol in the small town of Batesville, Indiana. One day, the troupe performed at a local middle school, and the audience members' faces lit up after the show. "That really stayed with me; you could tell it really meant something to them," Ms. Baldwin said.
Perhaps the biggest performance she's been part of was in December 2017 when On Your Feet! was featured during the Kennedy Center Honors in Washington, D.C. The cast performed a medley of Gloria Estefan's hits, and the event was carried on national television. That was more than just another show.
While all this is exciting, Ms. Baldwin's most ardent passion is creating costumes from scratch, which she has done for many productions. That's when she gets to use her imagination to the fullest and incorporate all that she's learned.
By the time she landed in Boston last spring, Ms. Baldwin had been with On Your Feet! for more than a year, which meant more than 240 performances. Whenever that job ends, she knows her vast experience will allow her to move quickly to the next assignment, doing work that she loves.
"If you're good at what you do, people will recommend you," she said. "And everywhere I go is an opportunity to teach something and to learn something new myself."
Do you have a BSU story you'd like to share? Email stories@bridgew.edu.