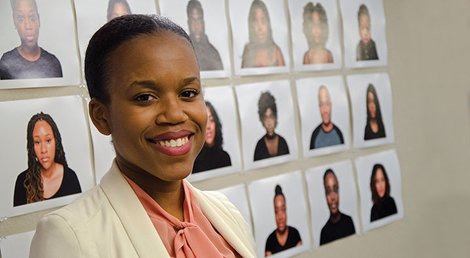 Haiti became a great melting pot of different cultures.
Story Series
Bridgewater Magazine
Valerie Anselme, '18, grew weary of people telling her she "didn't look Haitian." So, she decided to demonstrate the great diversity found in the faces of her fellow countrymen and women.
And she did it with her trusty Nikon.
The result is a collection of photographs titled Faces of Haiti. The series was displayed in Hunt Hall during the spring semester.
"Haiti became a great melting pot of different cultures," said the Boston native, who graduated from BSU in May with a dual degree in graphic design and photography. Her work demonstrates this fact.
Ms. Anselme also used photography to examine the history of her native land. Another grouping of images, titled Origins, depicts hands bound variously with rope, chain and rosary beads. They represent elements of Haiti's past, from slavery to Catholicism. A third series, Les Anselmes, features members of her family dressed as key historical figures in Haiti's history. The photographs are as striking as they are poignant.
Ms. Anselme's work has also been exhibited in Boston, Providence and elsewhere. See more of her work at www.anselmephotography.com.
Do you have a BSU story you'd like to share? Email stories@bridgew.edu.