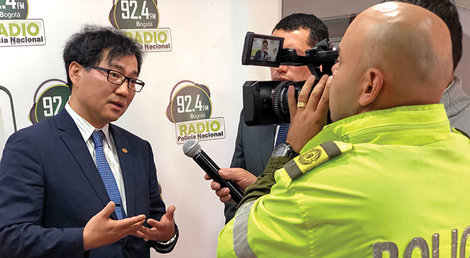 In order to minimize cybercrime, we have to globally work together, it's not just a U.S. problem.
Story Series
Bridgewater Magazine
Cybercrime knows no geographic borders, so it makes sense that a new journal co-founded by a Bridgewater State University professor aims to forge connections across the globe.
The International Journal of Cybersecurity Intelligence and Cybercrime, published in partnership with BSU and Boston University, seeks to offer empirical research articles, policy reports, case studies and book reviews. It debuted in July and will be published twice a year.
"I think every single scholar wants to establish a specialized journal," said Dr. Kyung-shick Choi, founding editor and editor-in-chief of the journal. "This is one of my dreams. Research is so important. It connects everyone."
A native of South Korea, Dr. Choi's secondary education took place in the United States. He holds a bachelor's degree from Northeastern University, a master's from Boston University and a PhD from Indiana University of Pennsylvania. He has been a full-time faculty member at BSU for 11 years.
Dr. Choi was invited to facilitate the United Nations Virtual Forum Against Cybercrime as an instructor in 2009. He is the author of Cybercriminology and Digital Investigation and Risk Factors in Computer-Crime Victimization.
The new peer-reviewed journal will further his work in these areas, exploring the topics and trends in cyber-security and cybercrime. The publication welcomes submissions from criminologists, social scientists, computer scientists, cybersecurity practitioners, members of police agencies, policymakers and others.
Dr. Choi hopes the publication serves a wide audience from around the world. Editorial board members hail from about a dozen countries, and Dr. Choi plans to publish issues in languages other than English.
"In order to minimize cybercrime, we have to globally work together," said Dr. Choi, who teaches at BSU and Boston University. "It's not just a U.S. problem."
Dr. Choi recently traveled to Colombia where he delivered keynote speeches at the Cybercriminology and Information Security Seminar at Universidad Antonio Narino in Villavicencio and at the First Symposium on Cybercriminology and Cybersecurity. He also visited the Colombia National Police Information & Technology Agency and was interviewed by the Colombia National Police Radio & Television.
He praised former BSU Associate Librarian Ellen Dubinsky, who led the digital library services, and Cybercrime Investigation and Cybersecurity team members for their assistance with the journal. Dr. Choi hopes the publication helps bring together government and private sector cybersecurity work. He would also like to improve training in the field and inspire the next generation of cybersecurity professionals.
"Have an open mind. Don't be afraid of challenging new things," he said of his goal for students who will read the journal.
Do you have a BSU story you'd like to share? Email stories@bridgew.edu.