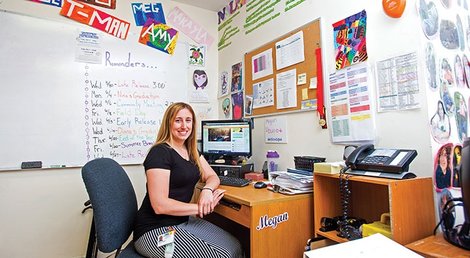 "Family has always come first. It's our foundation. It's something our parents taught and instilled in us as far back as I can remember."
Story Series
Bridgewater Magazine
In both their personal and professional lives, siblings Gerry Pouliot, G'12, and Meghan Pouliot, '12, will tell you that family is everything. Therefore, it made sense when in May the siblings shared the 2018 Bridgewater State University Educator Alumni Award.
"Family has always come first. It's our foundation. It's something our parents taught and instilled in us as far back as I can remember," Mr. Pouliot said.
The Pouliots grew up in Yarmouth Port and graduated from Dennis-Yarmouth Regional High School. Both are employed at the Latham Center in Brewster. Mr. Pouliot is director of children's services, and his sister is a special education teacher.
Both get high marks for the work they do.
"We are so blessed to have Meghan and Gerry here. They do an outstanding job," said the center's CEO Anne McManus.
Latham Centers is a nationally recognized treatment center for children and adults, ages 8-22, with intellectual disabilities and complex social needs. The Brewster branch is one of the few residential facilities in the country providing services for those diagnosed with Prader-Willi syndrome (PWS), a rare condition that causes out-of-control hunger. According to the Foundation for Prader-Willi research, PWS is a genetic disorder that affects one out of 15,000 births and is the most common genetic cause of life-threatening childhood obesity.
The Pouliots and the staff at Latham Center work together to best meet their students' unique needs.
Currently, 42 students from around the country live and study at the center, posing challenges in meeting the mandated curricula for each student's home state. Mr. Pouliot works with consultants to ensure Latham applies the varying state policies and procedures when creating curricula.
As director of children's services, he oversees four departments: the therapeutic residential facility, educational facility, clinical residential services and nursing services. He leans on his Latham Center family to get it all done.
"In no way could I be where I am without the Latham team," Mr. Pouliot said. "From the CEO, vice president, department heads, supervisors and direct care staff – it's a 'we' concept."
Mr. Pouliot started his career at Latham Center as a teacher. In fact, he began teaching in the same classroom as his sister. He quickly rose through the ranks, moving on from teacher to assistant principal to director of education before being promoted to director of children's services.
Despite his ascent at the center, he says it is his sister who deserves the accolades.
As a teacher at Latham Center, Ms. Pouliot has received the Excellence in Service Award from the National Association of Therapeutic Schools and Programs, as well as the 2017 Excellence in Teaching Award by the Massachusetts Association of Approved Private Schools.
"She's a rock star," Mr. Pouliot said of his younger sibling.
Many in Ms. Pouliot's classroom have experienced severe trauma. She said it's important to create a positive environment where students can learn and develop social and coping skills, as well as academics. "We do a lot of group therapy and teach them to advocate for themselves," she said. "A lot of that involves listening. I listen and try to validate what they are sharing."
Surprisingly, the Pouliot siblings' path to the education profession wasn't always clear.
"I considered going into social work," Ms. Pouliot said. "But I found I love working with kids. I get to make a difference."
Mr. Pouliot initially thought he was going to be a sports writer. Upon graduating from Fitchburg State in 2005, he obtained his teaching certificate and worked in the Fitchburg public schools. In 2010, an opportunity to work closer to home opened up at the Latham Center, and he applied. The rest, as they say, is history.
While he enjoyed his time in the classroom, Mr. Pouliot said he prefers working in administration. "Being a good leader is very important to me," he said.
For now, Ms. Pouliot is happy focusing her energies in the classroom, and she is pursuing a master's degree at BSU. "I love it here. Latham offers many opportunities for growth," she said. "I enjoy working with my colleagues. For right now, I like being in the classroom, I'm happy."
She encourages BSU students to make use of the many resources the campus offers as they plan their futures.
"BSU 100 percent helped prepare me. They taught me the best strategies for working in special education and how to manage the classroom," Ms. Pouliot said. "Talk to your advisors, they will set you on the right path."
Her brother offers this guidance: "Don't rule anything out. I never thought I'd be working in special education. Explore all options, and don't shut any doors," he said.
To emphasize this duo's "family-first" approach to life and work, they made sure to have a large contingent on hand when they were presented the alumni award. Cheering them on at the ceremony were their parents, Gerry and Cindy; Mr. Pouliot's wife, Ashley, and the couple's young sons, William and Gerry, and infant daughter, Avery; and his father-in-law, Joe Costa. Yvette, Mr. Pouliot's mother-in-law, has passed on, but he said she was there in spirit.
Do you have a BSU story you'd like to share? Email stories@bridgew.edu.