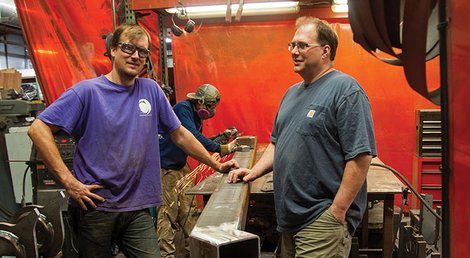 "The projects I wanted to create I couldn't do on my own, so I asked Rob for some help and never left."
Story Series
Bridgewater Magazine
The industrial workshop off Riverside Drive in Somerset is busier than ever these days. On an overcast and breezy morning in mid-September, the 5,700-square-foot space was filled with a number of versatile artisans with no less than a dozen projects in progress.
This is where BSU Art Professor Rob Lorenson can be found when he's not in the classroom, home with his family, or somewhere across the country installing one of his large and in-demand sculptures. It is here he designs and creates new work.
For the past half-dozen years, the workshop has also been home to a new business, Concentric Fabrication LLC, a custom architectural and sculpture metal firm Professor Lorenson founded with one of his former students, Derek Riley, '03. Bringing in business has not been an issue for the new enterprise – the challenge has instead been keeping up with the demand for the company's custom and niche creations. "We've been lucky to work with people who love these high-end projects," Professor Lorenson said.
But first, the sculpture. After all, that's where it began. Professor Lorenson's career at Bridgewater State dates to 1999. A popular professor, he has been a mentor to many students; he can count more than a half dozen who have worked for him over the years, including a handful at present. He has also taken on student interns who learned about the profession under his watchful eye.
At the same time, Professor Lorenson has been actively producing his art. His distinctive sculptures range in size from small enough for a tabletop to public-art-sized works that stand 16-feet tall. These larger pieces populate parks and open spaces from Chicago to Providence. Meanwhile, his sculptures can be found in more than 250 private collections. Last year, he exhibited some of his smaller pieces at a gallery in New Canaan, Connecticut.
Professor Lorenson's partner, Mr. Riley, earned a John Heller Memorial Scholarship while at Bridgewater State. The award is named for the late art professor who specialized in ceramics and metals. Knowing he needed a hand bringing to fruition some of the sculptures he had in mind, Mr. Riley turned to a faculty member with the necessary expertise and experience. "The projects I wanted to create I couldn't do on my own, so I asked Rob for some help and never left," he said.
However, he did take a hiatus beginning in 2005, working for an architectural firm. When the company went bankrupt in 2011, Mr. Riley, who caught the bug for building things from his father and grandfather, rejoined his mentor from Bridgewater State.
A connection was forged, and the following year Professor Lorenson and Mr. Riley founded Concentric Fabrication LLC. From the first, they've specialized in creating pieces that often begin in the imaginations of their clients. The client or an architect will scribble down the design, and from there, Mr. Riley turns it into a workable blueprint.
"He has this talent for bridging the gap between what the architect envisions and a way to make it a reality," Professor Lorenson said of his former student.
Of the dozen or so projects underway in the workshop on this September morning, there were parts for a Jurassic Park ride in Beijing, two staircases, three handrails, three sets of doors and some large medicine cabinets. All of them custom designed. Some of the pieces are so specialized the processes necessary to make them had to be created or improvised. "Yeah, it's not traditional stuff we're making, so we have to figure out how to make it," Mr. Riley said.
Some of the Concentric Fabrication pieces end up in houses that can be described as far above "high-end." In fact, Professor Lorenson and Mr. Riley frequently have to sign nondisclosure agreements ensuring they won't discuss some of their customers or their homes. No wonder. The products showcased in the company's brochures and photo displays are strikingly beautiful and highly original.
It's easy to see how working side-by-side with this creative duo could provide valuable experience for BSU students, past, present and future.
"It's important that students see this," Professor Lorenson said of the variety of projects created at the Somerset studio. "This is the world they're going out into." He looked around at the collection of large tools and machinery, outsize pieces of metal, scraps of this and that, and busy employees welding and drilling. "Everyone here gets educated every day, including me," he added.
One of the most recent BSU graduates hired by the partners is Cody Lyne, '15, of Swansea. An anomaly around here, since he majored in business and not art, he handles accounting, project management and human resources. He's in good company, surrounded by fellow Bears. "Rob and I did connect over the fact that I was an alumnus," Mr. Lyne said. "It's good to know that the efforts we put in at Bridgewater paid off."
It's clear that Professor Lorenson is creating more than just beautiful work. He's turning students into artisans, and alumni into creative professionals. "This is the kind of place where they learn about the process of making things," he said. "And these are the skills they're going to need out in the world."
Do you have a BSU story you'd like to share? Email stories@bridgew.edu.