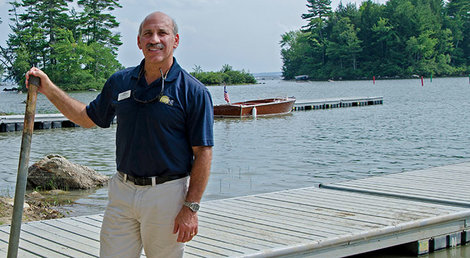 The job brings with it both inspiration and a real sense of accomplishment.
Story Series
Bridgewater Magazine
To get Michael Katz to discuss the most rewarding parts of his job as executive director of Camp Sunshine in Casco, Maine, just ask him to share some stories.
There's the one about the young man suffering from a brain tumor who, with the help of camp staffers, landed a date to the prom with Miss Maine. Or, the seriously ill boy who during the camp's weekly talent show earned a standing ovation by overcoming his physical challenges, climbing onstage and singing "Fight Song." Or the youngster from Maryland who wanted to meet his idol, a star of television's North Woods Law, and camp officials made it happen. "These stories make me appreciate all that happens here," Mr. Katz said.
Such magical moments happen all the time at Camp Sunshine.
The camp was founded in 1984 on the shore of Sebago Lake by Larry and Anna Gould, with a mission of providing week-long getaways, free of charge, for children with life-threatening illnesses and their families. Each session provides a full slate of recreational activities, as well as support and medical services as needed. The camp's 24 acres feature just about every form of sport and activity imaginable, from basketball to cooking classes and a volleyball court that turns into an ice rink each winter. Visiting families can also enjoy bonfires, karaoke, outdoor movies, archery, horseshoes, fitness challenges, mini golf and skiing, as well as indoor activities such as various arts and crafts, music making, and quieter pursuits, including board games and reading.
And, of course, there's always loads of fun to be had by all on Maine's second-largest lake, which abuts the camp.
Parents find plenty to do during their visit, including one night each session when the cafeteria is turned into a candlelit dining room so they can enjoy a quiet dinner. After all, a primary goal of Camp Sunshine is to give moms and dads a break from the multitude of challenges that come with caring for a ill child.
Mr. Katz (pronounced kaytz) said he sees it all the time – families and children arrive on the campus of Camp Sunshine frazzled and looking worried, only to leave a week later with broad smiles.
"Being a part of this is really a privilege, seeing these families and children, what they're going through and seeing their courage. … We're creating happy moments for them," he said. "You really can't beat the mission of Camp Sunshine."
Mr. Katz graduated from what was then Bridgewater State College in 1984, staying on an extra year to earn his teaching certificate. "I couldn't find a way to stay longer, or I would have," he said.
He first found his way to the woods of central Maine in 1983 via a summer internship arranged through his alma mater. He spent that break working at Point Sebago Resort, owned by the Goulds. Back then, the couple regularly opened the property to groups of sick children and their families. In 1984, Mr. Katz, a Natick native, returned, and it was around this time that the Goulds became more fully engaged with the mission of helping sick children and their families and established Camp Sunshine.
After graduation, Mr. Katz took a job as a schoolteacher in Newton, while also working at Point Sebago in the summers. When Camp Sunshine went year-round in 2001, he had to make a choice between the classroom and the camp. He moved to Maine, and other than leaving for a few years to open a pub, he's been working as a top executive at the camp.
Mrs. Gould, during a recent visit to the camp, stopped and talked with Mr. Katz for a minute. Afterward, she confided to a guest, "He's a star."
The camp's main campus, which includes an activity center, a cafeteria and rooms for indoor fun, was built in 2001. Since then, dormitories for families and volunteers have been added, as well as a new recreation building that's home to a basketball court and fitness center. Guests at the camp can also enjoy a serenity garden, soccer field, yoga yurt, outdoor amphitheater, gazebo and a family clubhouse.
From 23-27 weeks each year, Camp Sunshine hosts 40 families, along with 80-100 volunteers, aged 16-80, who address the families' every need. (Some volunteers and interns over the years have been Bridgewater State students.) Since 1984, 50,000 family members from 50 states and 27 countries have been guests of the camp.
On a July afternoon, with the temperature nearing 90, the camp was hopping. An outdoor cooking class was going on; children and families were down at the lake swimming, sunning and boating; and inside the camp's main building, guests of all ages were scattered about playing games, rehearsing for that week's talent show or just chilling with new friends they'd made.
The camp regularly serves families of children dealing with cancer, renal disease, hematologic conditions, brain tumors and other life-threatening conditions. But no matter the illness, the staff and volunteers, "treat everyone the same," Mr. Katz said. The goal is to allow, as much as possible, for the children and their families to enjoy an escape from the hospitalizations, fear and all else that serious illnesses bring.
The camp has been a great success, expanding its campus over the years and increasing the number of families it serves. Corporate sponsors and private parties who hold fundraisers, along with the continued support of the Gould family, allow all this to happen.
Mr. Katz, who lives with his wife, Lori, (and has a daughter, Maegan, now 26, who has also volunteered at the camp over the years) has found at Camp Sunshine his own oasis. "The job brings with it both inspiration and a real sense of accomplishment," he said.
For more information about Camp Sunshine, to make a donation, or to learn how to apply as a volunteer, log on to www.campsunshine.org.
Do you have a BSU story you'd like to share? Email stories@bridgew.edu.