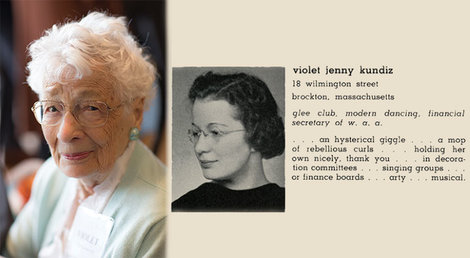 I am so fortunate in many, many ways – a wonderful family, a wonderful home, a wonderful husband.
Violet Kundzicz Santamaria
Story Series
Bridgewater Magazine
Violet Kundzicz Santamaria fits the definition of perseverance to a T.
When many of her high school friends in Brockton took jobs working in the city's shoe factories in the 1930s, Ms. Santamaria sought a better career than one involving the monotony of manufacturing. "I didn't want to go into the factory to work," recalled Ms. Santamaria, 102, the oldest living Bridgewater State graduate. "Oh, I dreaded the factories, and Brockton was full of factories."
So, she set her sights on what was then called Bridgewater State Teachers College and a career as an educator. However, attending college – even back then – cost money that Ms. Santamaria did not have. There was the $25 application fee, a gym outfit that cost more than $25, and a variety of other expenses.
Undeterred, she secured a loan from a relative, carpooled with other students to cut down on transportation costs and held jobs, such as assisting Bridgewater State Physical Education Professor Lois Decker. Ms. Santamaria also benefited from President Franklin D. Roosevelt's Works Progress Administration program.
At Bridgewater State, she especially enjoyed her history and art classes, and she recalls fondly some of her professors, including Gordon Reynolds and Priscilla Nye, who both taught art.
Outside of class, Ms. Santamaria participated in the glee club and modern dancing, and served as financial secretary of the Women's Athletic Association, according to her 1938 yearbook entry (which, by the way, spells her last name Kundiz; she said she dropped some of the letters to make it easier for children to pronounce). She's described as "arty" and "musical" with "an hysterical giggle" and "a mop of rebellious curls."
Ms. Santamaria recalled a train ride to Boston when the glee club was invited to sing at a college in the city. "What a thrill that was," she said. "We dressed up in our best clothes and had our picture taken. Oh, it was marvelous."
Then there was the tea party for new students. "We were required to dress as though we were going to a big party. We had to be careful how we sat and drank our tea," she said.
While today's BSU students will have different memories, many can likely relate to Ms. Santamaria's thoughts as she graduated on the Boyden Quadrangle 80 years ago.
"I was proud and happy, but I was more interested in what I was going to do for work," she recalled.
Her employment took a unique turn when, after serving as a substitute teacher in Brockton but being unable to find a permanent job, she accepted a full-time position at Soper School, a one-room schoolhouse near Lisbon Falls, Maine. There she taught students from preschool through junior high for one academic year. Ms. Santamaria then returned to Brockton where school officials were impressed with her teaching and offered her a job.
She spent the rest of her working years imparting wisdom to the children of Brockton and Lowell.
She married Albert Santamaria, who was from Revere, served in the Army and worked at Mass Electric Company. The couple had three children and enjoyed going on camping trips during their 56 years of marriage. Mr. Santamaria died in 2002.
Ms. Santamaria had the pleasure of teaching her own children, although they weren't so fond of having mom at the head of the classroom. "We couldn't get away with not doing our homework," said daughter Charlotte Browne.
Ms. Santamaria also kept up her singing, performing around the world with Lowell's Immaculate Conception Church choir. She loved to paint, draw, garden and sew, and she is proud of her Polish heritage.
Reflecting on her 102 years, Ms. Santamaria attributed her longevity to God's will and to those around her.
"I am so lucky," she said. "I am so fortunate in many, many ways – a wonderful family, a wonderful home, a wonderful husband."
Do you have a BSU story you'd like to share? Email stories@bridgew.edu.