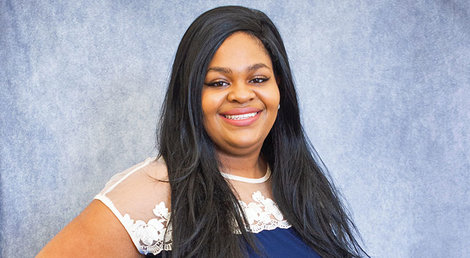 Holding on to the dream of my mother is something that keeps me going.
Story Series
Bridgewater Magazine
Brittany Christian, '20, has big dreams. They're not focused on climbing a corporate ladder or founding a successful startup. They involve helping others.
The Boston native, boasting a strong record of service while at BSU, hopes upon graduation to start an international nonprofit organization to help young people in Belize.
A political science major, Brittany credits service trips to Cambodia and Belize with sharpening her focus on a career devoted to helping others. She's also worked on campus as a peer counselor and served as a legislative and community affairs intern in the office of State Senator Sonia Chang-Diaz.
In February, Brittany participated in the 2018 Harvard Kennedy School Public Policy & Leadership Conference (just 73 students out of 800 applicants from across the country were chosen). That experience helped her decide to pursue a joint law-public policy degree in the future and to become a civil rights attorney.
We caught up with this busy junior to talk about her time at BSU and to find out what drives her.
Can you talk about those formative service trips?
I traveled to Cambodia this past March, and we had the opportunity to build water filters in rural villages alongside students attending a local university. They told us that despite their community service, they didn't receive any government aid to attend school. It's all personal funds. I thought there should be more effort by the government and outside sources to promote educational opportunities both there and in Belize. In Belize, where I traveled to three months prior, we worked in a primary school, which is unfortunately surrounded by gangs and other dangers to the youth attempting to get their education. We were under the leadership of Dean Lisa Battaglino, who has led this trip for several years. I fed off her passion and realized that I want to help kids obtain educational equality.
How did you become concerned about social justice?
My passion was born when I was in 10th grade. Trayvon Martin was killed, and the Black Lives Matter movement was gaining momentum. I felt there needed to be more advocates of color out there. At first, I wanted to be a journalist, because I thought it was a good opportunity to go into the field and tell stories about socioeconomically marginalized individuals. Then I met a teacher at Belmont High School, and she was a former lawyer herself who was now teaching. She taught me that if I was passionate about making change in this world that I could effectively do it as a lawyer. I said, 'That's the career for me.'
Did your family influence you, too?
Both of my parents' families emigrated here from the Caribbean; my mother's side from Barbados and my father's side from Dominica. Both taught me about the importance of hard work and the American Dream. Neither obtained a four-year college degree, but my mother was often told over the years that she would make an amazing attorney, so when I shared with my family that being an attorney was, coincidentally, my dream career, I believe it made my mother the proudest. Holding on to the dream of my mother is something that keeps me going.
Do you have a BSU story you'd like to share? Email stories@bridgew.edu.