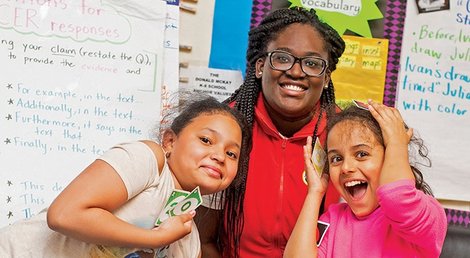 I feel confident that teaching is the right path for me, and, with their help, I hope to one day become an educator that can help make a difference in my students' lives.
Story Series
Bridgewater Magazine
It was another busy May afternoon at East Boston's Donald McKay School. Hawa Ture, '17, spent time playing the card game Uno with students at the K-8 school. It seems Ms. Ture's efforts earned her better than a passing grade.
"Today, one of my students said 'Ms. Ture, I wish you were a teacher,'" she said, during a break in the game.
Meanwhile, across the city at Dorchester's Jeremiah Burke High School, Shay Morton, '17, worked with a group of sophomores. He enjoyed helping students hone their post-high school plans, a process to which he can relate. It wasn't long ago that he was going through this himself. "We're near-peer mentors," Mr. Morton said. "We're not classmates. We're not as authoritative as a teacher or another adult."
Indeed, these recent graduates are something else: participants with the City Year Boston AmeriCorps program. City Year Boston embeds young adults in schools across the city in an effort to change children's attitudes about education. Last school year, the program placed 289 people, ages 18-24, in 23 Boston schools such as McKay. The group included five Bridgewater State University graduates.
City Year Boston members do more than lead games. They also help teachers prepare classrooms for lessons, aid children with homework and mentor students. They focus on pupils showing early warning signs such as poor attendance or difficulties with math and English, freeing up teachers to help those who are struggling the most.
The program seeks to keep Boston students in school and on track to graduate, and statistics show it is working. Eighty-one percent of children supported by City Year Boston members in the 2016-2017 academic year improved their performance on district reading and writing assessments. Almost 700 students increased their average daily attendance rates, resulting in more than 21,000 hours of recovered learning, according to a City Year impact report.
City Year Boston participants build valuable leadership and other skills. They receive a living stipend and funding to put toward further education and paying off student loans.
BSU graduate Gary Chow, '16, learned how to create lesson plans and what resources are needed for each one.
"Through my service, I gained significant insight of what it's like to be in a classroom full time," said Mr. Chow, who, while at BSU, mentored younger students through programs such as the Bridge Partnership, which is designed to advance the educational potential of underserved youth from Brockton and New Bedford by providing summer academic enrichment, as well as year-round individual educational case management and support.
Fellow Bear Ellen Contini, '17, put to use her BSU social work studies while participating in the City Year Boston program. "I support my students in a variety of ways. I encourage them to ask questions, try their best and never give up. I also assist them with their schoolwork, social- emotional behavior and attendance," Ms. Contini said.
BSU graduates said they learn from those they serve.
"Both my partner teacher and my students have taught me so much," Ms. Contini said. "They have provided me with invaluable experiences I will take with me for the rest of my life. I feel confident that teaching is the right path for me, and, with their help, I hope to one day become an educator that can help make a difference in my students' lives."
Students at Chittick Elementary School taught Lorenz Marcellus, '17, to be patient and live in the moment. "Every day is truly a new day," Mr. Marcellus said. "I learn as much from them as I try to teach them."
Paths to City Year
While growing up, Mr. Marcellus recalled having a variety of mentors, including his grandfather and a neighbor. As a student at Brockton High School, he faced adversity when his father lost his job and the family became homeless. He initially lived in a motel in Somerset but transferred to a shelter in Brockton to be closer to school.
After high school, he attended Massasoit Community College and then BSU, where he earned a degree in communication studies with a minor in film studies. He was also part of the Bridgewater Scholars program, which financially supports students who have experienced homelessness.
Mr. Marcellus took full advantage of the opportunities BSU provided. He mentored grade school students and traveled on service trips to Washington, D.C.; Philadelphia; and Belize. He met supportive faculty, such as Professor James Moore of communication studies and Dr. Michele Wakin of sociology.
Upon graduating, he saw City Year service as a way to continue inspiring the next generation. "The way I see it is I had people that mentored me when I was little," he said. "My plan was to give back."
Mr. Morton began his higher education journey in Northeastern University's pharmacy program, but it wasn't the right fit. He moved on to Massasoit Community College where he earned an associate degree and then transferred to Bridgewater State University to pursue a bachelor's degree in criminal justice with a minor in health promotion.
BSU offered a high-quality education with small class sizes close to his home in Rockland. And, City Year was a natural path to continue his love of giving back and serving others, he said.
City Year Boston was a perfect fit for Ms. Ture, who always wanted to work with young people. And, with many siblings, she brought personal experience to her service.
A first-generation college graduate who grew up in New York City and now lives in Malden, Ms. Ture first attended Massachusetts College of Liberal Arts in North Adams and then transferred to BSU.
"It feels great," she said of being the first in her family to graduate from college. "It was a proud moment to have that accomplishment."
Planning their futures
BSU graduates said their City Year and Bridgewater State University experiences helped shape their future aspirations. Ms. Ture, who studied sociology at BSU, hopes to help high school students who want to be the first in their families to earn a college degree.
Mr. Marcellus, who participated in the Campus MovieFest program at BSU, plans to write and direct films, particularly dramas, through the lens of social justice.
Mr. Morton would like to keep giving back by working for a nonprofit in development and fundraising.
"I've always felt the pull of service and volunteering," he said. "If I'm able to incorporate that into my career and job, then that's awesome."
Do you have a BSU story you'd like to share? Email stories@bridgew.edu.