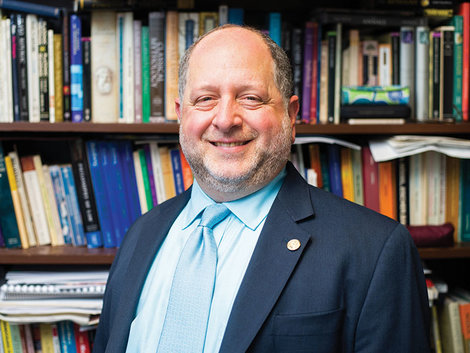 People are always interested in moral issues. So there's always a demand for classes that address the issues of ethics and public policy.
Story Series
Bridgewater Magazine
Growing up in Brooklyn, New York, Dr. Aeon Skoble already saw in himself the very things that would lead him to a life in philosophy.
"I was an argumentative child," he said, "but it was always about wanting to get to the bottom of things. So when I discovered that philosophy was about not only how to argue better but also how to understand things, that was just exactly what I was looking for."
As a child, Dr. Skoble was also an avid reader of science fiction. "That makes you think about other possible ways that the world could be. So it opens up different perspectives," he said.
However, when he attended the University of Pennsylvania in the early 1980s, Dr. Skoble filled his schedule with history and political science courses. He even studied Japanese culture. But, in his junior year, he settled on philosophy, thinking he might follow one of the traditional paths for those enrolled in the major and go on to law school.
Ultimately, Dr. Skoble earned a PhD in philosophy from Temple University and moved around to a couple of schools taking non-tenure-track positions. In 2001, Bridgewater State had an opening, and his specialization in political philosophy evidently gave him an edge over the other candidates and helped land him at the institution he's called home ever since.
Dr. Skoble is currently the acting chairperson of the Department of Philosophy, which over the past two decades has seen an appreciable increase in majors.
Meanwhile, he's helped create successful programs, including the philosophy, politics and economics minor, which he co-coordinates with Dr. Jordon Barkalow of the Department of Political Science and Dr. Daniel Lomba of the Department of Economics.
Dr. Skoble is also the point person in his department (along with Dr. Mark Kemper of the Department of Political Science) for students wishing to take their philosophy degree and move on to law school, a popular track these days. Dr. Skoble points out with pride that many recent BSU graduates have proceeded to top law schools across the country.
The Bridgewater resident and father of two is busy outside the classroom, as well. He is the author of two books (the latest, a monograph titled The Essential Nozick, will be available next spring), and editor of seven. One of the most popular books he edited was The Simpsons and Philosophy.
He lectures and writes for the Institute for Humane Studies and the Foundation for Economic Education, and is a senior fellow with the Fraser Institute, where he regularly blogs, often about the nexus of pop culture and philosophy.
"I try to keep regular business hours," Dr. Skoble said. "No matter what my teaching schedule is, I try to come in at eight or nine in the morning and spend the day in the office. If I stayed home, I'd never get anything done."
Dr. Skoble also makes sure to find time to join his department colleagues for a weekly lunch. "I'm really fortunate to be in a department where everyone works together very well," he said.
As for the state of philosophy in higher education these days, Dr. Skoble is optimistic. "I think it's healthy. There's lots of interesting work being done in lots of subfields," he said. "Plenty of new titles still come out every year. I think that there's a perennial interest for students in taking ethics classes. Also, a lot of students today are interested in public policy, the environment, business ethics. People are always interested in moral issues. So there's always a demand for classes that address the issues of ethics and public policy."