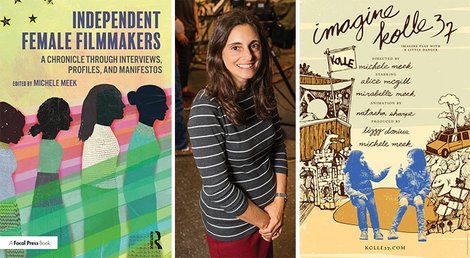 I was always teaching, including adult classes and workshops, It's just something I love to do.
Story Series
Bridgewater Magazine
Several years ago while working on a film with a group of fellow Emerson College students, Michele Meek had an epiphany of sorts.
She wanted to direct.
"I realized I wanted to be involved with the whole process," the assistant professor of communication studies said.
Since then she has directed five short films and has a feature documentary in the planning stages. And that's not all. The Providence native, who was raised in New York City, also founded a popular website dedicated to independent filmmakers and edited a recent collection of essays that has struck a chord in the #MeToo era.
While Dr. Meek's work is varied, her feminist cri de coeur resounds throughout. "If we really care about equality in the film industry, then we need to put our money where our mouths are," she said. "That means sometimes going out of our way to discover past films by women and people of color, and not just making room for us to make films now."
She entered Emerson College as a poet but emerged with a Master of Fine Arts degree specializing in screenwriting. While earning her MFA, Dr. Meek took courses in fiction and poetry and made student films. Ultimately, she opted for a life in cinema.
It was during her time at Emerson that she thought about starting a film magazine devoted to the careers of independent filmmakers. Lacking the necessary capital for a print publication, Dr. Meek turned to the web, and founded NewEnglandFilm.com, which continues to chart the careers of both the established and the up-and-coming, as well as feature the latest industry news.
Somehow, she also found time in those days to do some teaching. "I was always teaching, including adult classes and workshops," she said. "It's just something I love to do."
This led to her enrolling in a PhD program at the University of Rhode Island. In fall 2017, she joined the faculty of Bridgewater State University, teaching primarily film and digital media-related courses. She's happy to be teaching students about the things she cares about.
"The thing I like about working in academia is that I have a lot of passions, and teaching allows me to pursue them," she said. "That's very satisfying."
Some of those projects have recently come to fruition, including her work with the indie film magazine, The Independent, where Dr. Meek collaborated with others to form a nonprofit organization to save the archives of the storied publication. This led to her interviewing some of the female filmmakers that had been featured in the pages of The Independent and bringing their stories up to date.
From that sprang the book Independent Female Filmmakers: A Chronicle Through Interviews, Profiles, and Manifestos, which was edited by Dr. Meek, who also contributed two of the 15 interviews.
Though the project was begun long before anyone had heard of #MeToo, its publication in January 2019 was fortuitous, to say the least. In some ways, Dr. Meek's work was nothing less than prescient: Over the past year, women from Hollywood to Main Street have refused to stay silent in the face of harassment and inequality. Therefore, it's no surprise that Dr. Meek and the book have been featured in the media, including on podcasts and an interview in Ms. Magazine. Feminist Media Studies and MovieMaker Magazine reviewed Independent Female Filmmakers, and Dr. Meek wrote several op-eds concerning the book's focus.
A trip to Berlin a few years ago resulted in her most recent film, the documentary Imagine Kolle 37, which was screened internationally at museums, festivals and schools. The film is about the idea of play, specifically "adventure playgrounds" in Berlin, where children can access axes and saws and climb three-story structures – and parents are not allowed. Safe to say, it's not like anything one finds in the United States. "I'm really interested in cultural distinctions," she said.
The film also had experimental elements, such as an animated sequence that arises out of the blue. It reflects a growing interest of Dr. Meek. "I like non-traditional documentaries," she said. "I'm interested in pushing the boundaries of form. I've become more interested in work that doesn't follow the same patterns. I'm interested in work that almost seems jarring."
Dr. Meek is back in Providence now, where she lives with her husband, Geoff, and their two daughters.
Professionally, she not only teaches tomorrow's filmmakers and communicators at BSU, but also provides them with a real-life example of what it means to be a working creator. Her message is all about finding and following one's passion. "For people that are making creative work, you almost have to be compelled to do it," Dr. Meek said. "It's certainly not the easiest, most lucrative career path. You have to feel like you have
no other choice."
Visit michelemeek.com to learn more about Dr. Meek's work.