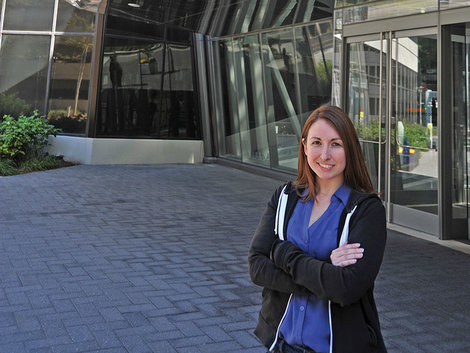 The folks at Draper know that I want to be there long-term, and if it's meant to be…
Story Series
Bridgewater Magazine
Sometimes it's true: Life comes down to being at the right place at the right time.
A corollary to this is the idea of putting oneself out there to take chances and try things that may or may not pay off in the long run.
Amanda Morrison came to Bridgewater State University from Westfield State University with a bachelor's degree in criminal justice and psychology. At BSU, she took a job as student supervisor of the Makerspace. She didn't get to use the lab for her studies, but found her own way of, shall we say, "making it."
"The Makerspace allowed me to make new contacts. One of those contacts was Dean Kristen Porter-Utley, (of the Bartlett College of Science & Mathematics)," Ms. Morrison said. "We discussed what I wanted to do after I graduated, and I explained that I was interested in cybersecurity. The dean then put me in touch with some of her contacts from that field, which ultimately landed me this internship at Draper Laboratories."
As for Dr. Porter-Utley, she called  Ms. Morrison "a real star," and predicted great things for her.
The Halifax resident will be an intern through December with the Cambridge technology company's InfoSec team. She helps with real-life cybersecurity issues like threat hunting, vulnerability/risk management, remediation efforts, investigating phishing campaigns and various other threats that can wreak havoc on computer systems.
It's work that  Ms. Morrison  enjoys, and it may even become a career path for her. "We will have to wait and see what happens," she said. "The folks at Draper know that I want to be there long-term, and if it's meant to be…"