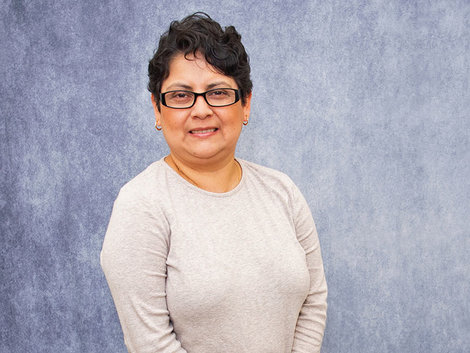 Story Series
Bridgewater Magazine
Teresa Magan doesn't deal well with obstacles. She moves past them with determination and looks ahead to whatever's next. It's a trait that has served her well over her 47 years.
Teresa and her siblings fled the civil war in her native El Salvador in 1987, when she was 17. A family on Long Island sponsored them, and she was able to become a United States citizen and graduate from high school, after which she moved to Rhode Island. After marrying, she moved to Massachusetts.
The Taunton resident enrolled in BSU's College of Continuing Studies in fall 2018 via the MassTransfer program, having earned an associate degree at Bristol Community College in arts and general studies, and also studying for a time at Community College of Rhode Island. At BSU, she is majoring in sociology and hopes to minor in history.
Teresa works two full-time jobs, raises a family, volunteers at her 10-year-old daughter Emma's school and at St. Vincent DePaul's food pantry, and makes much-needed clothing for premature babies in Nigeria. She also deals with rheumatoid arthritis, which she was diagnosed with at the age of 2. But, as you'll see, nothing keeps her out of the classroom or interrupts the pursuit of her goal to help other immigrants who are struggling to feel at home in the United States.
What made you want to pursue higher education?
It was always in the back of my mind to go back to school. My main goal is to help people coming from other countries not to feel awkward. I know how we struggled when we got here. I knew I needed to get an education to do this, even though when it was time to go back to school I said to myself, 'This is going to be difficult.'
Also, I want to be a role model for my daughter. She needs to know that if she is going to do well in life, she needs an education. Life is not easy, and I don't do it because I'm a superwoman. I'm not. But I think education opens doors.
How challenging is it to continue your education at this point?
I don't see it as a challenge. I think it's more of a time management issue. I think if you put your mind to it and decide you are going to finish something, you can do it if you manage your schedule the correct way. I don't go home and complain. It is what it is. I chose this.
What would you say to others thinking about going back to school?
To do the best they can, continue learning and take advantage of the great things this country has to offer, not only the freedom, but also the chance to better themselves. It will be fine if they put their mind and soul into it.
Can you imagine that day when BSU's president hands you your degree?
It will feel like I've reached the light at the end of the tunnel. I was raised by a single mom working two jobs whose four children all went to college. It wasn't easy for her. Then I can tell her, 'This is my bachelor's degree, and now I'm going for my master's. It's taken me a long time, but I got there.'