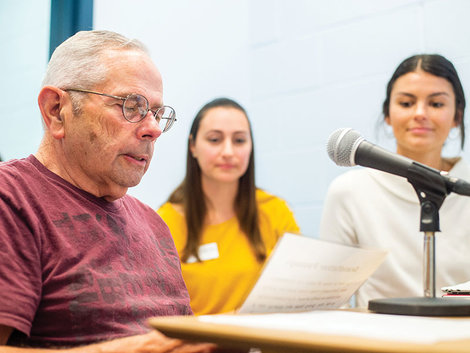 I think it's very exciting to be part of a new program and to be able to deliver services that aren't available elsewhere.
Story Series
Bridgewater Magazine
Daniel Medeiros sometimes has trouble being heard. A year ago, his weak voice was one in a gathering cloud of symptoms that eventually led him to visit his doctor, where, ultimately, the 72-year-old Freetown resident was diagnosed with Parkinson's disease.
This year, on a late summer morning, he found himself, accompanied by his wife Norma (Class of 1977), sitting in a room inside BSU's Speech Language and Literacy Center speaking into a microphone, while in an adjoining room, a clinician observed. Mr. Medeiros is one of the first individuals taking part in SPEAK OUT! and LOUD Crowd training, which together comprise a new therapeutic approach for Parkinson's disease. This was part of his evaluation.
"It's nice to have a program like this here," Mr. Medeiros said. "I don't have to take the train into Boston or Providence. It's very convenient."
In fact, the program at BSU represents such a cutting-edge development in the treatment of Parkinson's disease, it's not even fully available in those nearby big cities.
SPEAK OUT! and LOUD Crowd training were developed by Texas-based nonprofit Parkinson Voice Project. And, thanks to grant funding from the organization, it's provided free at BSU
to those with Parkinson's in Southeastern Massachusetts and beyond.
"We hope to become a resource to the community," said Amy E. Porter Wareham, a clinical educator with the Speech Language and Literacy Center, who was integral to bringing the training to campus. Joanne L. Abdallah, clinical director and instructor, and Victoria Littman, clinical supervisor and instructor, also help administer the program.
The Mayo Clinic defines Parkinson's disease as a progressive nervous system disorder that affects movement, speech and facial expression. It typically begins with tremors, stiffness and the general slowing of movement. There is no cure, but some medications have been shown to reduce symptoms, and some patients undergo surgery. Various forms of therapy have also been found effective.
"It's a sneaky disease," Ms. Porter Wareham said, noting how Parkinson's can rob patients of their personalities, as well as the way they view themselves. "It's not only
a disease that impacts just how your muscles function, but also how well one is able to monitor how you are performing," she said.
It can be especially tricky when it comes to symptoms related to speech. The upshot is that many of those with Parkinson's may think they're speaking loudly enough when they aren't. Verbalizing is key to socialization and many of life's joys. "If it takes away your voice, it makes it hard to fully take part in life," Ms. Porter Wareham said. She added that SPEAK OUT! and the LOUD Crowd not only help improve the ability to communicate, but also provide a renewed sense of confidence.
According to the Parkinson Voice Project, the first phase of the program, SPEAK OUT!, addresses motor speech deficits associated with the disease through a combination of speech, voice and cognitive exercises. BSU graduate students and staff members at the center assist with the participants, who are provided with a workbook that helps them continue the exercises at home.
The second part of the program, LOUD Crowd, brings together participants in group therapy sessions in a newly renovated space inside Burnell Hall. Ms. Porter Wareham said this aspect of the program helps the center remain in contact with participants to continue assisting them. The weekly group sessions allow them to perform exercises together and practice what has become a mantra around the center – speaking with intent.
There's even a music program, known as Sing Out, where participants are encouraged, when they are ready, to sing together.
BSU students also benefit from the program. A host of graduate students, including Lauren Hayden, G'20, of Seekonk, and Rachel Lyons, '18, G'20, of Weymouth, will gain hands-on experience working with SPEAK OUT! and LOUD Crowd participants. "I think it's very exciting to be part of a new program and to be able to deliver services that aren't available elsewhere," Rachel said. "It's such a great experience for us."
For Lauren, assisting with the program teaches her the skills to service a specialized adult population that she has not worked with before. "It's really going to push us to be better clinicians," she said.
As for Daniel and Norma Medeiros, they're happy to be on the leading edge of Parkinson's disease treatment, especially at BSU. "We're just grateful we can get help for him so close to home and where it's free," Ms. Medeiros said. "It really helps us."
Parkinson's Disease and Speech Disorders
Ninety percent of people with Parkinson's disease are at risk of developing a weak voice that can lead to serious speech and swallowing difficulties.
Speaking and swallowing are highly automatic behaviors. When we speak, we don't think about taking air into our lungs, contracting our diaphragm, or moving our vocal folds, tongue or lips; it all happens automatically. It's the same for swallowing; it's an automatic behavior.
Dopamine facilitates automatic movements. However, in Parkinson's, there is a considerable loss of dopamine. With less dopamine, automatic movements are disrupted, which can contribute to speech and
swallowing difficulties.
Early symptoms of a speech disorder associated with Parkinson's disease:
Reduced volume
Hoarse-sounding vocal quality
Frequent throat clearing
Trailing off at the end of sentences
Some days the voice sounds normal; other days it doesn't
Information above from Parkinson Voice Project.