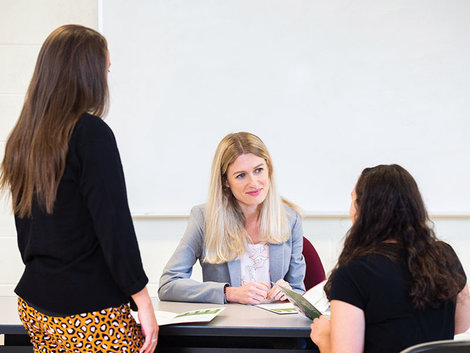 I love working with English-language learners and hope this experience will teach me more about the field.
Story Series
Bridgewater Magazine
Cyndi Cram, '19, has been gaining the credentials and experience necessary for her dream career of becoming a certified speech-language pathologist working with students from linguistically and culturally diverse backgrounds.
She happened to be at Bridgewater State University at the right time. Last fall saw the roll out of a TESOL certificate program, and Cyndi was a member of one of the first cohorts. "I knew I wanted to continue learning in this field," the Mansfield resident said.
In May, she graduated with a bachelor's degree in communications sciences and disorders, and also completed the TESOL certificate program. "I love working with English-language learners and hope this experience will teach me more about the field," she said.
Cyndi is enrolled in BSU's master's degree program in speech-language pathology and is a graduate assistant for second language services.
TESOL stands for "Teaching English to Speakers of Other Languages." The university saw a growing need for a certificate program that provides students with the education and credentials necessary to teach English-language learners in the United States and abroad.
Designed for undergraduate students from any discipline, cultural and/or linguistic background, the four-course certificate program delivers a mix of theory, methodology and classroom strategies. Linguistics and cultural issues are also covered in the program.
The certificate is offered through a partnership between BSU's College of Continuing Studies and newly created TESOL Department.
"There is so much to the teaching of English; it's not just teaching vocabulary. And that's what we try to introduce to our students," said Dr. Alexandra Balconi (Dema) (facing page, center), assistant professor in the Department of Special Education and the TESOL certificate coordinator, who developed the certificate program. "Cultural competence is important, as well. These students need to understand intercultural issues and how to address and explore them."
The program is open to anyone with a high school diploma interested in obtaining TESOL certification to teach English in the United States and/or abroad. It is also available online to international students in their own countries, as well as to other individuals living outside the United States. International exchange students at BSU from partner universities may also enroll.
It's a flexible program, with online courses, summer intensive sessions and more. There is a lot of interaction, whether the program is taken online or in person.
Students benefit from online sessions, group meetings and by delivering required presentations, all via video chat software such as Skype. Fieldwork is also required,  including teaching a mini lesson before a class at a local school.
Molly McNamara, '20, from Hull, earned her TESOL certificate in the spring. She believes the skills and strategies she learned will come in handy next semester when she's a student teacher. "These courses allowed me to see another side of the linguistic world," said the early childhood education and Spanish major, who is minoring in special education. "They exposed me to seeing both the similarities and differences between
the languages."
Molly's TESOL certificate program experience will likewise stay with her throughout her career. "I hope to become a teacher who is able to provide proper support for English-language learners," she said.
About the TESOL Certificate Program
The program consists of four undergraduate courses offered online, on campus and through an accelerated 10-week summer program.
Who is eligible? 
BSU undergraduates from any academic discipline at any stage in their degree program
Individuals with a high school diploma or any college credits
International students earning a degree at a university in their country or anyone who lives outside the United States and wants to earn the certificate online
International students from partner universities who come to BSU for one or two semesters as exchange students
Learn more at www.bridgew.edu/ccs/TESOL