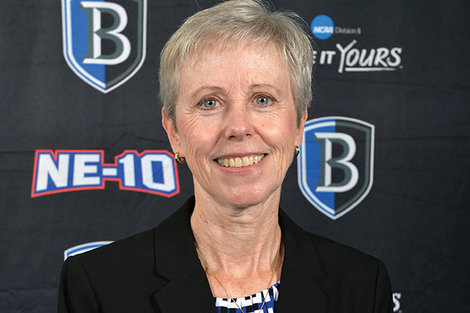 "It was one of those things where it was nice of them to just think of me. I was humbled just to be a finalist"
It was a day in April – the day in April – when the Naismith Memorial Basketball Hall of Fame was set to notify the 2020 inductees. For the second year in a row, Barbara Stevens was waiting for the call.
After being named a finalist for induction in 2019 and not selected, she'd been nominated again this year. If chosen, she'd be joining the ranks of Larry Bird, Michael Jordan and fellow standout women's basketball coaches like Sylvia Hatchell.
On the appointed afternoon, Coach Stevens was watching the clock. As the minutes ticked away, she figured that once again she'd fallen short of being elected. And she was OK with that. "When I became a finalist again this year, I certainly got my hopes up, but I'm very realistic," Ms. Stevens said. "It was one of those things where it was nice of them to just think of me. I was humbled just to be a finalist."
Not long after harboring those doubts the phone rang, and the voice of Hall of Fame President and CEO John Doleva was on the line saying, "Congratulations."
"I literally went blank, and I know I got very emotional," Coach Stevens recalled. "I don't picture myself in this situation at all. I'm still in a little disbelief."
It was an appropriate accolade to cap off a remarkable career, first as a coach at Clark University, then the University of Massachusetts Amherst, before making her mark with a highlight-filled 34 years at Bentley University.
Coach Stevens retired from Bentley on July 31, ending with a lifetime winning percentage of .787. With the uncertainty forced upon collegiate sports by the COVID-19 pandemic, the Hall of Fame nod and the fact that the university had a solid succession plan for the program she'd built, the 65-year-old decided to close this chapter of her life.
Well, not entirely. She has decades of memories and an enduring love and appreciation for the fans, players and institutions that have all been integral to her success. "It's bittersweet. I'm leaving a profession and a school and a program that I've loved and always will love," Ms. Stevens said just days after her official final day at Bentley University. "It was the right time and the right decision for me to step aside."
The encomiums have come pouring in, including high praise from Bentley's Athletics Director Bob DeFelice. "As spectacular as her record is, her impact on her players was far greater," he said. "Coach Stevens, her teams and Bentley University was a love affair that will last forever. I've always admired how she handled herself. Her sincerity, her composure, her presence, her professionalism ... and she got instant respect from her players."
Already inducted into the Women's Basketball Hall of Fame in 2006, Ms. Stevens has amassed a number of impressive achievements, including being the fifth woman in college basketball history to hit the 1,000 win mark, an NCAA championship in 2014 and multiple top-ten finishes. In 2018, Bentley named its basketball court the Barbara Stevens Court in honor of her many accomplishments.
The seeds of this illustrious career can be found in the Southbridge native's high school years. That's where Ms. Stevens had the good fortune of meeting a coach and physical education teacher named Rita Castagna.
"She just seemed to have so much fun doing what she was doing," Ms. Stevens said. "She was lively, and it was infectious."
Longtime Bears fans will know that name. Better known as Coach Castagna, the Class of 1966 graduate is a member of BSU's Athletic Hall of Fame, in part due to her own achievements coaching basketball.
Ms. Stevens recalled thinking, "Wow, she went to Bridgewater. Maybe that's where she got the passion for what she was doing. I wanted the same thing; to be really happy in my profession."
In 1972, Ms. Stevens became a Bear herself. Still, today, after all her experiences, Coach Stevens said it was the right choice. "If I had to do it all over again and could repeat what happened at Bridgewater, the education I received and how prepared I felt upon graduation, I would absolutely do it all over again," she said. "It was a great school for me to attend."
She remains in touch with a handful of her classmates she considers close friends, including another standout women's basketball coach, Elaine Clement-Holbrook, '75, G'81.
As for retirement, expect to see the former coach teeing off quite a bit, as well as traveling. "I really have so many things I'd like to do," Ms. Stevens said. "I'm taking things one day at a time."