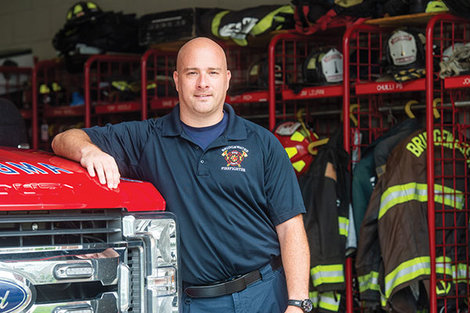 "With time and science and good information, I think we'll be OK."
Story Series
Bridgewater Magazine
Firefighters, EMTs and paramedics are typically the first responders when someone potentially infected with COVID-19 reaches out for help. Sean Peters, G'18, a Bridgewater native and a firefighter and paramedic in town, has seen the effects of the disease up close. He and his coworkers have taken dozens of locals showing symptoms of the virus to area hospitals, though it's usually difficult to determine whether the patient actually has the coronavirus or something else.
"Everyone presents differently, especially people with comorbidities, and some people are asymptomatic," Mr. Peters said. "For us, we consider everyone to be infected. You treat everything as a risk."
All this is part of the reason that 2020 has been one of the most challenging years for Mr. Peters, who earned
a Master of Public Administration degree at BSU and received the university's Dr. Guy C. Clifford Scholarship, presented by the Department of Political Science to MPA students who demonstrate academic excellence and commitment to public service.
He also has been a part-time faculty member at BSU for nearly a dozen years, teaching self-defense as part of the physical education major.
Mr. Peters has been a firefighter-paramedic for 18 years, 14 of those with the Town of Bridgewater. Over that time he's encountered many challenging situations. He and his colleagues knew there were two chief concerns working on the front lines of the pandemic, both relating to the infectious nature of COVID-19.
"I could be bringing it home to my family," Mr. Peters said. "It doesn't hinder me, but I don't want to bring
it home."
The other challenge for emergency workers everywhere is to avoid bringing the virus into the station, which would result in fewer first responders available to assist with the many 911 calls.
But there's more to the job than just ambulance runs, Mr. Peters said. The Bridgewater Fire Department has also been in the forefront of collaboration between politicians, hospitals, the Centers for Disease Control, the state Department of Corrections and many other entities. Working together, the goal has been to collect best practices and make sure staff, fellow town employees and the community at large stay informed.
Mr. Peters said if there's a silver lining to these troubling times, it's that the stay-at-home recommendations resulted in more time with family. "I've got two boys, and it's been nice having them home from school,"
he said. "We got a new dog and work in the yard. It's meant a lot of great family time."
He's optimistic that the pandemic will pass into history sooner rather than later. "With time and science and good information, I think we'll be OK," he said.