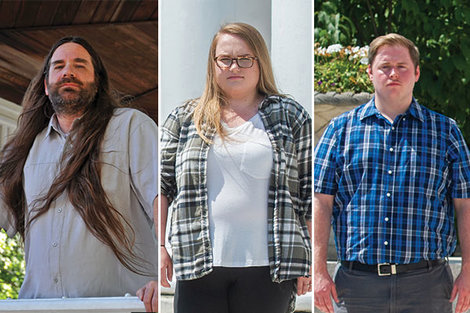 "It's become crystal clear how devastating the human cost has been."
Story Series
Bridgewater Magazine
Donald Larson, '11, knows well the toll taken by the COVID-19 pandemic. For years now, he's been one of those caring voices on the other end of the line when the most desperate among us reach out for help. The coronavirus has been a literal game changer. "It's become crystal clear how devastating the human cost has been," Mr. Larson said.
The North Attleboro resident holds a bachelor's degree in English from BSU and has spent the better part of the last decade manning hotlines for those in need.
And he's not alone. A May 2020 graduate and a current student recently concluded internships at the Samaritans of Fall River/New Bedford, a charity organization that provides emotional support for those who are lonely, depressed or suicidal. Both Erica English, '21, and Richard Stang, '20, stayed on as volunteers after their internships ended.
All three report an increase in the number of calls they've had to field during the pandemic, as well as a change in the nature of the calls. In fact, reports are legion about the increased number of people calling suicide hotlines since the outbreak of COVID-19.
A June article in Psychology Today reported that according to statistics from the Centers for Disease Control and Prevention, suicide was already the 10th leading cause of death in the country, with a 35 percent rise between 1999 and 2018. As for the increase during the pandemic, hard numbers were not yet available, but anecdotally, COVID-19 has wreaked havoc on people's mental health, as well as their physical well-being.
"One thing became very apparent, all the calls on some level were emotional support calls," Mr. Larson said. "It was profound. Everything's been upended."
A decade ago, Mr. Larson was finishing his studies at BSU, and when a summer job ended, he decided to use his time volunteering.
"I wanted to find something to do, and I stumbled across a post online," he said. A suicide prevention organization was looking for people to staff its hotline. "I gave it a shot and found I enjoyed it. I really enjoyed connecting to people."
Mr. Larson began volunteering for Mass 211's Call2Talk hotline, which supports those in need of mental health information, emotional support or who are contemplating suicide. Mass 211 is a state clearinghouse for those seeking all manner of assistance. Today, Mr. Larson works from his makeshift kitchen office and fields calls for a number of related hotlines: The National Suicide Prevention's Lifeline Network, a United Way mental health hotline, and Mass 211's new COVID-19 line.
The calls he handles include people dealing with depression, those simply needing someone to talk to, and others seeking to be connected with a local human service agency. Some of the pandemic-related calls have been scarily telling, such as the calls he began receiving in April from funeral directors who were running out of body bags and needed help finding more.
Many calls were from people who'd lost a loved one and had been unable to spend time with that person due to restrictions related to the virus. "Losing someone you love during the pandemic means you grieve alone," he said. "Those who would usually be around you, comforting you, aren't there either."
Erica, a psychology major, received many calls while working the Samaritans line from people worried about financial problems. Calling, too, were nurses and other medical professionals, as well as some of the researchers working on possible treatments or vaccines. "With the front line workers, just the differences in the tones of their voices were incredible," the West Bridgewater resident said. "It taught me a lot about the importance of having someone to talk to."
Those handling incoming calls at the Samaritans must undergo seven weeks of special training and are there to listen, not give advice. They can then refer the callers to places where they can get the help they need.
Erica spent the spring semester as an intern and stayed on as a volunteer through the summer. She is thinking of pursuing a career in therapy. "I felt like this would give me the most hands-on experience in dealing with issues that a therapist would deal with," she said.
Like Erica, Mr. Stang finished his spring internship and then remained at the Samaritans as a volunteer. At a loss as to what kind of internship he wanted to round out his psychology degree, the staff at BSU's Internship Program suggested the Samaritans. "It was close to me, so I figured I'd give it a try," the Westport resident said. "It's really interesting, and it feels great to help people."
Mr. Stang generally worked 10 hours a week for the Samaritans. Along with tending the helpline, he also trained new interns and volunteers. He noticed as the pandemic began its march across the globe and hit home locally that more people were reaching out for help. "The calls increased in number and overall severity," Mr. Stang said. "Even now," he said in June, "it's still high.
"For some people, the issues stemmed from living alone," he said, "and not seeing anyone was a challenge. Some people are scared, and you feel bad because it's a serious thing. Any problems people had before were exasperated by the virus."
The situation became more stressful as well for those who do this important work as logistic complications arose. While Mr. Larson was already working at home as an employee of Mass 211, Samaritan interns and volunteers had to be set up to work remotely. This meant fielding calls from home. "That was an intense process," Erica said of the transition.
Dr. Caroline Stanley, associate professor of psychology at BSU, oversaw the internships of both Erica and
Mr. Stang. She worked closely with them and had each keep a journal. "I was stunned and impressed by my students and their resilience week after week, and the strength and the meaning they took from this work," she said. "Even seasoned professionals were struggling."
Dr. Stanley goes on to describe some of the calls her students had to deal with, including difficult instances of domestic abuse, which have increased during the pandemic, and medical professionals who call up sobbing.
Yet, the pair not only completed their internships but also continued fielding calls as volunteers.
"The pandemic struck just as they were starting," Dr. Stanley said. "They were new to this, and they
performed impeccably."
Mr. Larson continues his work, handling the 11 pm to 7 am shift for Mass 211, and he just completed his first semester at BSU toward a master's degree in mental health counseling.
"It's no small feat," said Dr. Katherine Bender, an assistant professor in the Department of Counselor Education, who praised her former student for the work he's doing helping others during a time of national crisis. However, Mr. Larson would likely say the rewards are all his.
"I like it," he said. "The other volunteers are very nice, and, overall, it's just an enjoyable experience to help.
I like being there for people."
Mr. Stang is taking a year off before attending graduate school and says he'll likely continue volunteering with Samaritans as long as he can.
Erica, like Mr. Stang, enjoys playing what can be a critical role in the lives of those in dire need. "I try not to think of myself as helping people; that makes me feel awkward," she said. "But it does feel really good to hear from other people that you're doing a great thing. I just look at it as if I were in the position of those people, how I'd be glad to have someone to just listen. To be able to do that for others was a very rewarding feeling."
If you or someone you know needs emotional support during these difficult times, help is available.
BSU Counseling Services: 508.531.1331
Mass 211 Call2Talk: 508.532.2255
National Suicide Prevention Lifeline: 1.800.273.8255