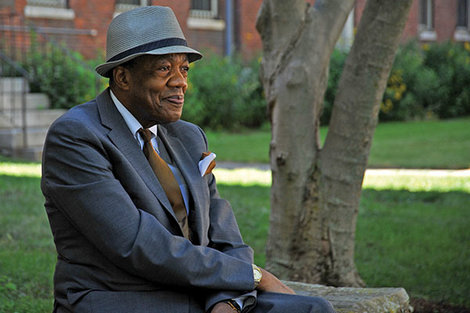 "Growing up in Chicago gave me a sense of what it really meant to be an African-American with values and asking myself how I can give back."
Story Series
Bridgewater Magazine
For those who watched the cities of America explode in protests following the police killing of George Floyd and had the feeling the country was stumbling into unchartered territory, Dr. Walter E. Harper Jr. has news for them.
We've been there before.
"Because of the George Floyd incident, it is important to note that urban unrest was also going on in Chicago and other U.S. cities throughout the 20th century," he said.
Born in 1950, this visiting associate professor in the Department of Anthropology became familiar with racism firsthand. There were racial demonstrations and riots erupting in Chicago during his youth, and he also lived in a world defined by segregation. In fact, he was born not in the hospital of his mother's choice, but at Provident Hospital, which was historically the only medical institution in the city that openly accepted African-American patients.
It was a childhood that had its highs and lows, Dr. Harper said. "On one level, it was a wonderful experience for me; on another level, it was extremely painful, based on the racial antipathy that was going on in the city," he said.
An especially painful example was when members of a Chicago-based hate group burned a cross on the Harper family's lawn. The Chicago area was also home base for the American Nazi Party, whose members were regularly visible when Dr. Harper took the bus to attend high school, often enduring their racial epithets. "The amount of hate I saw in Chicago was worse than what many people would observe in the antebellum southern area of the United States," Dr. Harper sadly recalled.
Overt racism was something African-American residents of Chicago – and across the country – experienced then, as now. Chicago was also a city of neighborhoods, most of which were segregated. The Harper's home was in the Park Manor community, where the infamous gangster Al Capone and his family lived before the neighborhood became populated predominately by African-Americans. The schools in the neighborhood were considered sub-standard, prompting Dr. Harper's mother to convert to Roman Catholicism as the church's schools were the only private educational institutions that she and her husband could afford. That decision gave Dr. Harper and his siblings the opportunity to receive what his mother termed "an academically excellent and emotionally transformative education from elementary school to college."
"It was a great experience, and it made me aware of the civil rights movement and the social justice legacy of people like Dorothy Day and others," Dr. Harper said.
Dr. Harper said his Roman Catholic education also helped him learn about social inequality and the social initiatives designed to alleviate such inequality, such as the Catholic Family and Catholic Worker movements. One of his early mentors was Father Richard Morrisroe, who was in the thick of the civil rights battles of the early 1960s. Around that time, he offered to take Dr. Harper to Alabama for a voting rights push for African-Americans organized by the Student Non-Violent Coordinating Committee. At the last minute, fearing the event could become dangerous, Dr. Harper's father didn't allow him to attend. As it turned out, Father Morrisroe was shot and badly wounded, and one of his fellow activists, Episcopal seminarian Jonathan Daniels, was killed.
The incident drove home not only the need for change in this country, but also underlined the danger in pursuing it.
Because of segregation that unofficially restricted where African-Americans could live, when he was growing up, Dr. Harper would see on the street prominent African-Americans, such as Mohammed Ali, Marvin Gaye and Mahalia Jackson, who lived nearby, as well as some of the great civil rights leaders. He saw Martin Luther King when he came to Chicago and led an open housing march in 1966. After Dr. King's death in April 1968, the city was riven by riots. "My own neighborhood was just utter pandemonium," he said.
Dr. Harper said the overriding lessons he took away from his early years can be summed up in two questions: How do you deal with hate? And, what can you do to make the world a better place? His search for answers led him to enter the Roman Catholic seminary at age 13. However, nine years later, in 1972, he felt compelled to become an educator. That decision changed the course of his life and provided a much better fit for what he wanted to do.
"Growing up in Chicago gave me a sense of what it really meant to be an African-American with values and asking myself how I can give back," Dr. Harper said.
Wherever he's taught, including seven years at BSU, he has tried to inculcate in his students that idea of having a higher purpose in life and the need to look out for their fellow human beings.
To help meet that goal, Dr. Harper teaches a popular course he developed years ago that focuses on the 1950s classic television show The Twilight Zone. The program provides a lens through which he and his students examine American history and culture from an anthropological perspective, as well as explore the dilemma of the human predicament.
"The most important thing I try to get across in the course is what it means to be human," he said, adding that in this moment when racial justice is top of mind for millions of Americans, he's optimistic his students will be shaped, as he was, into individuals who strive to ensure equity and dignity for all.