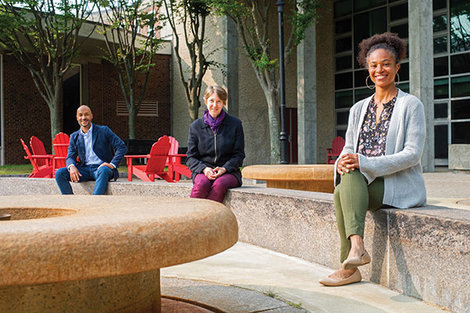 "Let's keep talking. And let's make change."
Story Series
Bridgewater Magazine
Talking to others.
Sounds simple enough. It doesn't always happen in these divisive times. But the sharing of thoughts, ideas, information and experiences is a time-honored path to understanding and empathy.
Important and timely conversations happen across Bridgewater State University's campus all the time. We thought we'd focus on one in particular that was initiated as racial justice became one of the biggest news stories in the United States, competing with the COVID-19 pandemic for space in daily newspapers and newscasts.
As they shared their experiences and reactions with one another, Professors Jakari Griffith (management), Laura K. Gross (computer science and mathematics) and Tina Mullone (dance) discovered they are not far apart in their values and beliefs. Each has expressed gratitude for the conversations they've shared together.
We asked them for some thoughts on this all-important subject, thoughts that reflect what they've been talking about during the year.
Dr. Jakari Griffith
When I was about 22, I was stopped on I-95 on my way home from college by an unmarked police cruiser. In the span of minutes, I was removed from my car, searched, and had the contents of my suitcases emptied onto the shoulder of the highway. The officers' explanation: I passed a car using the right lane. It was a humiliating experience.
The plain truth is many people of color experience these kinds of injustices all the time, but they are reluctant to share them. Moreover, these kinds of encounters are not easy to forgive or set aside, as they're often accompanied by feelings of mistreatment. 
The important work at BSU is to continue giving voice to these experiences as part of our difficult process of healing. We must allow students, faculty and staff to share their frustrations and for our campus community to see those frustrations as legitimate. We must be humble enough to embrace the guilt that surfaces when we discover our actions might have resulted in some harm. We must also take responsibility for our own learning to avoid thinking that's mired in a dark past. We must commit ourselves to the highest standards of human decency, care and compassion. As a member of the BSU family, this is what is required of you.
Dr. Laura K. Gross
In elementary school, we sang "Lift Every Voice and Sing" at assemblies. The Black national anthem helped me form a preliminary understanding of the unequal lives and histories of Black and white kids.
At BSU, I started taking an intentional look at racism in society, education, my classroom and myself. The worldwide uprisings of 2020 and the Letter of Demands Affirming Black Lives at Bridgewater State University (issued in June by a group of 10 Class of 2020 graduates) sparked me to ask questions about racism in policing, health care, study abroad, campus housing and my immediate environment at work.
I turned to friends, colleagues, students and the chief of campus police. I take advantage of opportunities to listen. In this pandemic more than ever, I appreciate the power of human communication, connection and resolve.
I continue to learn about the utterly different lived experiences in America, particularly those of Black and white individuals. Where white people say, "I am shocked!" about what's going on, Black people say, "I am not surprised." Where white people say, "That has never happened to me," Black people say, "That happens to me, my friends and my family members constantly."
Let's keep talking. And let's make change. If I can live up to the words of that song I sang as a child, "Let us march on 'til victory is won," I know I will be busy for the rest of my lifetime.
Professor Tina Mullone
We are at a breaking point once again in this country concerning racial injustice, and we will need legislation that will protect Black and Brown young people for generations to come. Although I have hope change will eventually happen, the cases of Breonna Taylor and Jacob Blake test my faith.
I can only imagine what they were thinking in the moments leading to their demise. I, too, was recently pulled over by cops for "running" a stop sign. As a woman, with two male cops approaching me, a series of questions ran through my mind: Do I choose to keep my windows up out of fear? Do I respond in anger because I know I didn't run the sign? I then remember to breathe, respond politely and pretend to look calm. Because in that moment I wondered, 'Could what have happened to Breonna Taylor, Jacob Blake and many others happen to me?'
Calling out injustice is necessary. The BSU community, law enforcement officials, and local, state and federal governments must work together to find a way to end these senseless deaths. There is a saying that a man gets tired of having someone's foot on his neck. And now we are tired of being killed with a knee (foot) on our neck ... again.
What I have discovered is that there are people who are willing to and feel comfortable sharing their experiences. There is an underlying energy and zest in the current protests that are seeking permanent change for the better. That keeps me hopeful.