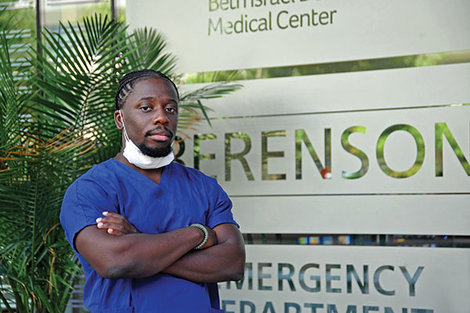 "Ideally, I always wanted to be in a position where I could help somebody, and I found my passion in the health field."
Story Series
Bridgewater Magazine
When Chris Laguerre, '17, was hired nearly two years ago as part of the ambulatory flow pool at Beth Israel Deaconess Medical Center, he had no idea just how busy the job would become.
The role the Boston native undertook was the medical equivalent of being a utility player, working in a wide variety of departments, including orthopedics, primary care and gastroenterology. In other words, Mr. Laguerre's many skills were deployed in a number of areas doing a number of different things on an as-needed basis.
When the COVID-19 pandemic hit Boston hard last spring, those skills were heavily in demand. "It was stressful, definitely stressful," he said. "In a lot of situations, you look for answers. But we were just going day to day. You had no idea what tomorrow was going to bring."
As of mid-August, according to The New York Times, Suffolk County, where Boston is located, had 22,017 cases of the virus, with 1,076 deaths. Statewide, those numbers were 122,000 cases with 8,769 lives lost. Late April and late May were the peaks. Mr. Laguerre worked through it all.
He left his job near the end of summer to prepare for the next phase of his life – pursuing a master's degree in public health at the University of Massachusetts Amherst. Growing up, he wanted to become a doctor, however, the high cost and number of years of medical school made him seek related alternatives.
"Ideally, I always wanted to be in a position where I could help somebody, and I found my passion in the health field," Mr. Laguerre said.
After some research, he realized there were many other medical career options available he could pursue besides becoming a doctor. "There are so many different possibilities out there, such as being a nurse, nurse practitioner, physical therapist, physician's assistant and more. I want to encourage and remind people that becoming a doctor isn't the only way to help," he said. "One of the reasons I like working in health care is the opportunity to make an impact in someone's life, whether it's large or minor," Mr. Laguerre said, adding, "I haven't completely given up on my dream. I just realized there are many other ways I can fulfill it."
A biology major at BSU, he said that his time in the classroom always gave him ideas about his future. "That's where I get my inspiration," he said.
Mr. Laguerre's career plans have also been shaped by his time working at Beth Israel and by seeing the effects of the pandemic up close. A takeaway from the job is that prevention is key, and as a result, working in the field of preventative medicine is what he's now considering for his future. The upshot of neglecting preventative care is that hospital urgent care departments are always busy. He recalled a conversation he had with a doctor who said that the hospital would be half empty if people only took care of themselves. "People can save money and time by doing that, and there's such a connection between good health and happiness," Mr. Laguerre said.
Recalling his hectic days on the job when COVID-19 patients were taxing the resources of Beth Israel and other city hospitals, he had to unplug from the news on television and online. Those were days and weeks of moving from one patient to another, as he took on essential duties like washing them, changing beds, disinfecting rooms and assisting nurses in their work. He also worked at the front desk of the inpatient department, where he spent the most hectic days, which in turn freed up other staffers to jump into the fray.
"Seeing people go through this is tough," Mr. Laguerre said. "There were a lot of sad things that happened, but there were some positive things, too, like seeing people heal and fully recover."
At BSU, Mr. Laguerre, who is of Haitian descent, served as president of the student group Inclusive Advancement of Multicultural Students in STEM. He has always been attuned to matters of race in America. Knowing that people of color have felt the greatest impacts of the pandemic was something else he witnessed on the job, and it's also something that hit home for him. "It made me think about my parents," he said. "They're older now, and I saw so many people who looked like them dying."
Countering such grim thoughts is the fact that Mr. Laguerre was working both when the inpatient department was declared a COVID-19 trauma floor and filled with those sick and dying from the virus, and when it returned to normal conditions, with nary a person with the disease being treated. "That was the best part, seeing people recuperate and head home," he said.