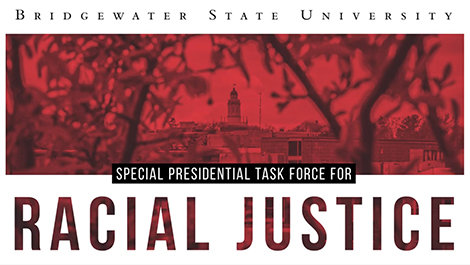 "They asked me and BSU to 'do better.' Our students are right: we can and will do better."
Story Series
Bridgewater Magazine
On a Wednesday night in June, President Clark saw outside Boyden Hall a group of two-dozen students protesting the recent killings of George Floyd, Breonna Taylor and Ahmaud Arbery. He went outside and spoke to the students, who he found were "passionate and thoughtful" in their responses to the police brutality that had resulted in the deaths of so many unarmed people of color across the country.
"I reaffirmed my unwavering support for the Black Lives Matter movement, and we had an open and honest dialogue over specific ways in which BSU could further integrate racial justice into all aspects of the university," he said. "They asked me and BSU to 'do better.' Our students are right: we can and will do better."
Thus the seeds were planted for a handful of measures, chiefly the formation of the Presidential Task Force on Racial Justice. President Clark charged the task force to be introspective, listen, honestly evaluate how the university can do better and to thoughtfully develop recommendations for an action agenda to make change.
President Clark also announced that the entire 2020-21 academic year will be dedicated to the issue of racial justice. Under the leadership of the Martin Richard Institute for Social Justice, BSU will develop a series of forums, events and discussions that will engage the entire university family in this important work. "This is just the beginning," the president said.
The task force is chaired by Trustee Davede Alexander; Dr. Mary K. Grant, senior administrative fellow for civics and social justice; and Dr. Carolyn Petrosino, professor emerita of criminal justice, and its membership comprises students, administrators, faculty, an alumna and local residents.
Remote meetings began in August, and in late September, the task force announced the formation of six subcommittees. The areas of focus are: curricula and co-curricula; the BSU workforce; education, training and continued learning opportunities for faculty, staff and students; investing in and supporting students; police and public safety; and creating a place for ongoing support, problem solving, reporting resolution and response.
The set of recommendations is expected to be announced next year.
The president announced a list of changes on September 28 that went into effect immediately:
The Board of Trustees approved the renaming of the Center for Multicultural Affairs to the Lewis and Gaines Center for Inclusion and Equity. Sarah Ann Lewis was Bridgewater State's first graduate of color, earning her diploma in 1869. The late Paul Gaines, G'68, was a longtime administrator who devoted decades of his life to advancing equality and equity for all and changed fundamentally and forever the entire culture of the institution.
Over the summer, BSU raised $650,000 toward a goal of $1 million in new private philanthropic support for BSU students of color. A portion of these funds will be used to finance new scholarships (including one honoring Mr. Gaines) for students of color who are pursuing a degree in education and who also pledge to serve as a teacher in a gateway city in Massachusetts.
The university is inaugurating a series of faculty and staff-led workshops and discussions, guest speakers and anti-racist initiatives open to all members of the BSU community.
President Clark said these racial justice initiatives demonstrate the critical need to take a stand on one of the most pressing issues of our time. "My commitment is to leave no stone unturned in fostering inclusion and equity at Bridgewater State University," he said. "If higher education is to truly become the 'great equalizer – the balance wheel of the social machinery' – it must equitably serve all people. Bridgewater always has and always will actively pursue truth and understanding as we activate our values of diversity, inclusion and equality."