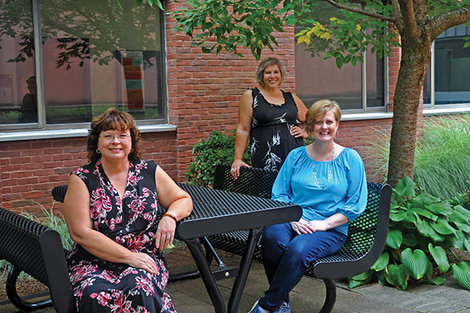 "Our new and future teachers need training for mitigating disparities in new and creative ways."
Story Series
Bridgewater Magazine
The pandemic has forced millions to confront new realities: the way we work, learn and teach among them.
To capture a snapshot of this singular moment in time, four faculty members from Bridgewater State University's College of Education and Health Studies got a jump on things. Schools around the country switched to remote learning in March, and less than two months later, these faculty members rolled out a survey to determine the impact this method of teaching was having on K-12 teachers, students and parents.
"We found that these issues were something that teachers wanted to talk about," said Dr. Jeanne Ingle, one of the faculty-investigators. She added that some of the challenges educators faced were due to the lack of any lead time in making the transition, as most K-12 educators were not included in school district plans to move to remote learning.
Along with Dr. Ingle, the survey was conceived and conducted by Drs. Melissa Winchell, Heather Pacheco-Guffrey and Andrea Cayson. The team surveyed nearly 750 K-12 teachers from 40 states about the challenges presented by the pandemic and the closing of schools in mid-March. The responses range from the expected – lack of internet and computer access in the households of poorer students – to the surprising ways in which the role of teachers has had to expand to include increased workloads and off-hours time devoted to the job.
The researchers were all once K-12 teachers themselves and have many friends still working in elementary, middle and high school classrooms. Once the move to remote learning was made, the faculty members began hearing talk of the problems associated with such a fast conversion from classroom teaching. That prompted them to look deeper.
The survey was conducted in May. The research team expected maybe 50 respondents when it was first posted. Quickly, the number grew to more than 700, and the survey had to be closed due to the large amount of data that came in.
Part of the richness of the data comes from the fact that the survey contained many open-ended questions. It drew honest and telling responses, such as this from one veteran teacher: "I learned more in the last three weeks than I did in the past 20 years." That speaks to one of the overarching findings of the survey.
"Teacher resiliency is a big part of the story," Dr. Cayson said. "We heard a lot about the problems, but also about the things being done to solve the problems."
A key takeaway from the research concerned the role technology can play in the future of K-12 education.
"This study made plain that teachers often think of using technology as a tool for learning, rather than as a new landscape for pedagogy design," Dr. Winchell said. "It's one thing for a teacher to use an application like FlipGrid, it's quite another for a teacher to use that application in service of authentic learning and deep thinking."
Dr. Pacheco-Guffrey said the findings will inform those students who are seeking to become tomorrow's teachers about the realities they'll face on the job. "The COVID crisis has done much to shine a spotlight on inequities across students' circumstances in America," she said. "Learning to navigate the constraints and affordances of teaching in the time of COVID will be critical for educators. Our new and future teachers need training for mitigating disparities in new and creative ways. They also need to learn how to advocate for their students and themselves amid the large-scale systems that limit teachers' abilities to affect change as we face the near future, living with COVID."
The researchers will present their findings in December at the prestigious International Society for Technology in Education conference, which is being held virtually, and are seeking outlets to publish the findings.
They expect to conduct more research into how the pandemic is affecting education. It appears, at this point, to be a rich area of study, Dr. Ingle said. "It's an impact that's going to last for a long time."
Survey Snapshot
Four BSU professors surveyed close to 750 K-12 teachers from 40 states about the challenges
presented by the pandemic and the closing of schools in mid-March. Among the findings are:
A wide range of preparation was given to teachers, from nothing at all to comprehensive classes on successful practices in online learning.
There is a fast-growing need for teachers to educate not only their students but also parents as families adapt to the new normal imposed by the virus.
Many K-12 educators find they are "on the job" almost 24/7, as many students have had to find part-time jobs to help support their families in these difficult times and can only log on for classwork and questions on nights and weekends.
A not-insignificant number of students "disappear" or "drift away" when remote learning is in place, leaving teachers struggling to connect with them in a meaningful way.
Overwhelmingly, America's teachers are not giving up in the face of these new challenges and are working hard to find a way to reach each and every student.