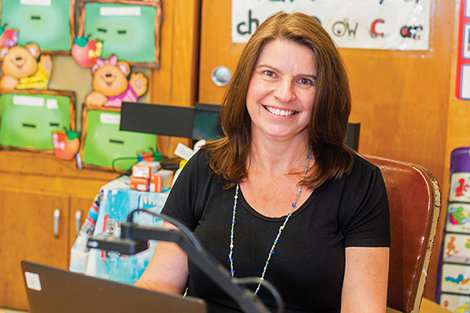 "Every minute of the day I was re-inventing the way I worked. ... At times I had to live-teach to kids in the class and also had some learning from home. Now you're trying to keep everyone in class six feet apart and also watch what the kids on the computer were doing..."
First-grade teacher, Edmund Hatch Bennett Elementary School, Taunton
Story Series
Bridgewater Magazine
When the COVID-19 pandemic emptied Lori Duhaime's first-grade classroom at the Edmund Hatch Bennett Elementary School in Taunton, she felt like she'd entered a strange new world.
"Every minute of the day I was re-inventing the way I worked," said the 1993 graduate and veteran teacher of 28 years. "It was overwhelming. But once we got into the swing of things, it worked out well."
Educators at all levels were forced by the pandemic in March 2020 to abandon face-to-face teaching. Immediately, they had to deal with the logistics of changing the way they did things.
"At first we had no technology in place, so we were calling kids," Ms. Duhaime said. "We wanted to check on the well-being of the families."
Eventually, new technologies and educational platforms were put in place, Zoom and Skype calls became the norm for meetings and other purposes, and apps were used to stay in touch with students and parents. Some schools issued tablets, webcams and whiteboards to help students and teachers stay connected, and novel uses for older programs and websites like PowerPoint and YouTube were invented.
Beyond the technical aspects of this brave new world were other challenges.
"Not being able to be there for the children was the toughest," said Sandi Telless, '02, a kindergarten teacher at Central Elementary School in East Bridgewater. "Not being able to hug your kids and having to put six feet between you and them. They're like family. I get very vested in my kids, and for me to tell them we can't get close to each other, that was really hard. Kids need that connection."
Joanly Ayala, '20, now teaches fifth grade in Ashland but had to perform her student teaching in Brockton remotely during the pandemic.
Distance teaching has its highs and lows, she said.
"It was nice logging in every day and seeing students who wanted to learn with me," Ms. Ayala said. "It was difficult to try to figure out lessons and how to match them with the requirements of my student teaching. It was a difficult time, but I still loved doing it and never thought during all that time that I wanted to be anything other than a teacher."
Educators also had to deal with shifting schedules and situations as the pandemic's impact waxed and waned. Hybrid models mixed remote learning with face-to-face classes, and, at one point, students were allowed to come back full time, but some exercised their option to continue learning online.
"At times I had to live-teach to kids in the class and also had some learning from home," said Ms. Duhaime. "Now you're trying to keep everyone in class six feet apart and also watch what the kids on the computer were doing..."
Often at her school, Ms. Telless is put in charge of the fun stuff. "It's important for young students to keep them engaged," she said.
During the pandemic she dressed up as a chicken to illustrate a lesson on farming and the life cycle – which also included counting eggs as part of a math exercise. She spent time in the woods portraying a praying mantis, had the students engage in scavenger hunts in their own yards where they had to count off their steps (more math skills), joined her colleagues in making weekly videos for their students, and much more.
"We had 12 weeks of school left when we shut down that March, and we asked ourselves what we could cover and have a little fun," Ms. Telless said.
It was hoped that the new vaccines would usher in a return to normalcy in schools by the start of this academic year. However, the Delta variant and the millions around the country who remained unvaccinated as of late summer meant the new ways of teaching had to remain in place for the immediate future. Masks are mandated, some districts require social distancing and proof of vaccination (mostly at the college level), and assigned seats in the cafeteria. Group learning is allowed in some communities.
Confronted by the demands brought on by the pandemic, educators around the country have generally received high marks for their adaptability and professionalism. The rules and methods of teaching have varied and still do, but for the most part, America's teachers have been applauded for finding a way to get the job done.
One other thing is clear, said Ms. Ayala, whose first day as a full-fledged teacher was August 31. "So far, it's been heartwarming to see so many students back and together again," she said. "Some of them haven't been in the classroom since March 2020. I can tell they truly want to be there. They want to socialize and play, and we give them the opportunity to do so."
For better or worse, today's students are accustomed to the changes wrought by COVID-19 protocols. "Kids don't know anything different," Ms. Duhaime said. "This is their way of life now. It's become normal for them, and they just go with the flow."
Some school districts have used federal funding to establish programs to try to make up for some of what was lost by students due to the inherent limitations of remote learning. However, that may not be enough.
Ms. Telless is less sanguine about the longer-term impact on young people that the challenges of the pandemic have presented. "For me it was about getting them back into the routine once the school year started," she said. "These students have been at home for a full year-plus, that's where we are going to see the social and emotional impact."