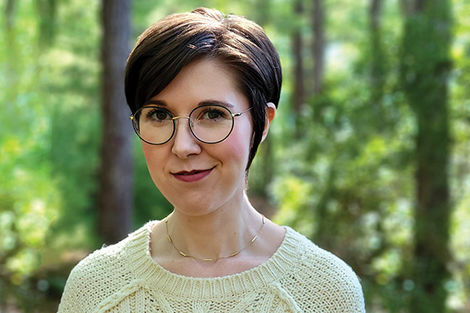 I consider what I write lyric essays,. They look like prose on the page, but have the cadence, sound and reliance on image that poetry does.
Dr. Sarah Fawn Montgomery
Story Series
Bridgewater Magazine
It was a safe bet that after she wrote her own version of Charlotte's Web at age 6, that it would be a writer's life for Dr. Sarah Fawn Montgomery. When she got to high school and a teacher required her to read stacks of contemporary books and keep a creative nonfiction journal, her career path was settled once and for all.
"I always liked to write," Dr. Montgomery said. "I didn't know you could make a living as a writer until graduate school."
She earned a Master of Fine Arts degree from California State University-Fresno and a PhD from the University of Nebraska-Lincoln, both in creative writing. In graduate school she also took part in a directed study with U.S. Poet Laureate Ted Kooser. "I learned a lot from his approach to poetry, that it should be accessible," Dr. Montgomery said. "I figured, 'I could do that.'"
Dr. Montgomery, who came to BSU five years ago, said that since the start of her career, teaching and writing have gone hand in hand. Her fifth book, an essay collection titled Halfway from Home, was published in November. She's also been a regular contributor to distinguished journals and collections from around the country.
Dr. Montgomery grew up along the central coast of California, one of eight children. It was not a home full of books, she recalled, but she had the drive and aptitude to become the first of her family to attend and finish college.
When she took up the pen, she did so with intent. Dr. Montgomery first published three poetry collections, and by this time, she'd also published more than 50 essays. Plaudits followed: Her second chapbook, Leaving Tracks, was a semi-finalist for that year's Black River Chapbook Competition and Gold Line Press Chapbook Contest, and earned an honorable mention for the 2015 Concrete Wolf Chapbook Prize. Her third collection, 2017's Regenerate: Poems of Mad Women, was featured on Boston's Books on the T program. (Books on the T is a traveling library that introduces books to the Greater Boston community, with books available on MBTA trains, in MBTA stations and nearby locations.)
In the pages of her poetry, readers can locate some of Dr. Montgomery's primary themes: the idea of home; a sense of place; and the ways in which people are shaped by their environment, gender and identity.
Though Dr. Montgomery writes in several genres, poetry remains central to her life. Her biggest influences, she said, are contemporary queer poets and poets of color. She cites Chen Chen and Dorothy Chan as favorites. Poetry also informs her prose style; especially with her more recent pieces.
"I consider what I write lyric essays," Dr. Montgomery said. "They look like prose on the page, but have the cadence, sound and reliance on image that poetry does."
She turned next to memoir and literary journalism with 2018's Quite Mad: An American Pharma Memoir, in which she chronicled the anxiety she dealt with during her years at graduate school. The book also serves as a heavily researched account of the history of mental illness treatments in the United States.
Her expertise in these areas has helped her assist students who may be dealing with their own challenges.
When the pandemic hit, Dr. Montgomery changed gears again. "Everyone was baking bread in 2020. I began to play around with fiction," she said. "It frightened me at first, but now it's my new love."
The result was a young adult novel and about a dozen published short stories.
Halfway from Home, her latest, is a return to nonfiction, a form Dr. Montgomery says gives her the courage to say what she feels needs to be said. "I'm a very shy person, and nonfiction allows me to share things," she said. "I'm a lot braver in my nonfiction than in life."
Blending lyric memoir with lamenting cultural critique, Dr. Montgomery examines nostalgia and contemporary grief, searching for how to build a home when human connection is disappearing and how to live meaningfully when our sense of self is uncertain in a fractured world. Taking readers from the tide pools and monarch groves of California to the fossil beds and grass prairies of Nebraska, to the scrimshaw shops and tangled forests of Massachusetts, Dr. Montgomery holds a mirror up to America and asks us to reflect on our past before we run out of time to save our future.
Place is a central concern of the collection. Pitching the book in a sentence, she said, "It's about searching for home amidst emotional and environmental collapse."
"I tend to write a lot about place," she said. "I'm interested in how place shapes a person. I believe we're created by the places where we live."
While her writing life is flourishing, of equal importance is her work teaching BSU undergraduates and graduates. Each part of her professional life feeds the others, Dr. Montgomery said.
"I get energy and inspiration from my students," she said. "And I hope I give them the same. I can't imagine working as a writer without teaching."