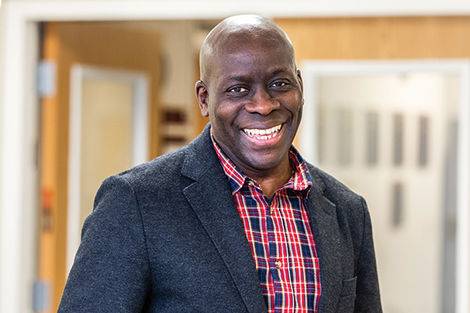 Personally, this was a proud moment that recognized my skills and talents as a social scientist as well as satisfied my ongoing curiosity and interest in people and communities outside of our own country.
Story Series
Bridgewater Magazine
Dr. Jibril Solomon has always viewed social work as a community-based enterprise. This summer, he greatly expanded that idea of community.
It now stretches to Kenya and beyond.
Dr. Solomon, an assistant professor of social work, spent six days of his summer break in the East African nation. It was nothing short of transformative, he said.
"Personally, this was a proud moment that recognized my skills and talents as a social scientist as well as satisfied my ongoing curiosity and interest in people and communities outside of our own country," he said.
Dr. Solomon came to Bridgewater State University in 2017, and it didn't take him long to get involved in international affairs. When he saw an announcement that the Global Studies Program was looking for faculty members interested in participating in the Mandela Washington Fellowship for Young African Leaders, he jumped at the opportunity.
He was asked to develop a proposal detailing what he could contribute to this landmark BSU program that is funded by the U.S. State Department and has been hosted by the university each summer since 2016. The program brings to campus roughly 25 young men and women from Africa for a six-week institute focused on public leadership. 
Dr. Solomon was selected to be a presenter in the summer of 2018, and the following year he was asked to contribute a week's worth of programming. "That involved taking the principles we teach in social work and figuring out how they can be useful for tomorrow's leaders," he said.
Dr. Solomon's role continued to grow with BSU's Mandela program, when in 2020 he became one of its academic directors. However, COVID caused the cancellation of that summer's program, and in 2021 it was held virtually.
"That was a heavy lift, but we pulled it off," he said.
The summer of 2022 saw a successful return of the program to campus.
Not everyone knows that the U.S. State International Research & Exchanges Program, or IREX, the organization behind the Mandela Fellowships, also provides research and exchange grants to allow U.S.-based scholars to travel to Africa. It was highly competitive, but BSU Global Studies faculty leaders Dr. Jabbar Al-Obaidi and Dr. Wing-kai To encouraged Dr. Solomon to apply. He made the cut.
"It was just a chance I took, and I was really surprised," Dr. Solomon said.
He spent six days in Kenya, driving across the country, stopping for interviews and site-specific research in Nairobi, Siaya and Bondo Towns.
Dr. Solomon met with local officials and security experts, as well as children's and women's groups, and spent time at the University of Nairobi, where he met with students.
As it happens in Africa, these meetings took place "in fancy offices and under trees," Dr. Solomon recalled. "You name them, I met with them," he said, reflecting the comprehensive nature of his fully packed schedule.
As a bonus, Dr. Solomon also met an aunt of Barack Obama, and visited the grave of the former president's father.
His work in-country led to a report, "Develop Peacebuilding and Conflict Resolution Strategies in Siaya County, Kenya, for Good Governance and Public Participation."
Knowing that Kenya has had its share of tribal wars and instability, Dr. Solomon sought to learn the causes.
"I was curious about that," he said. "Where is the breakdown coming from, and what are the issues? Is there anything we can learn, and is there anything we can do to support this young democracy?"
Kenyan officials will benefit from Dr. Solomon's report, as will BSU students. He'd like to make the country a regular study tour destination for his students.
"So not only will they develop some cultural knowledge, they can bring back these skills when working with the immigrant community here at home," he said. "Such trips will help the students have a different perspective that will help them have a deeper understanding of how they will approach the immigrants from these countries, who we need to serve."
Dr. Solomon's research in Kenya is part of his role as an educator in what he sees is an ever-shrinking world. He plans to go back next summer to continue his work.
On campus, meanwhile, he will give presentations, host workshops and incorporate aspects of his personal fact-finding mission into his classroom teaching.
"As a scholar, the trip was an opportunity to continue to develop my field research work, expertise and skills, especially at a global level, to broaden my competencies in teaching and learning in a more diverse and globalized world," he said.
"Education in this century must have a global aspect to it, which is why it's important to me to always have this larger perspective," Dr. Solomon added.