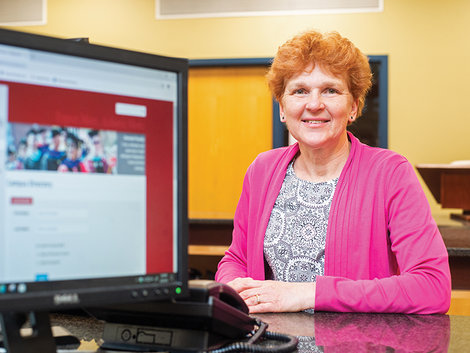 Libraries and librarians are bridges. We help people make academic and social connections beyond the classroom.
Story Series
Bridgewater Magazine
Her initial dream had been to become a kindergarten teacher, but after Cynthia Svoboda, '84, took an afterschool job at the Mansfield Public Library, that changed. Being surrounded by books, helping others with academic work and research, and always learning new things seemed like an interesting and fulfilling way to spend a career.
"Libraries and librarians are bridges," she said. "We help people make academic and social connections beyond the classroom. Also, libraries provide spaces for users to engage with each other, with technology, with research materials and more."
The 1980 Mansfield High School graduate was a first- generation student, and Bridgewater State was close by and affordable. She'd begun as an English major, but switched to history with a minor in library science. She graduated summa cum laude and went on to earn a master's degree in library science and information studies from the University of Rhode Island in 1986.
Throughout her time as a student at Bridgewater State, Ms. Svoboda's focus kept turning to libraries and their impact on individuals and society. Her honor's thesis was an independent study on the history of women in academic libraries, and, during six of her semesters on campus, she held a work-study job in the circulation department of Maxwell Library. While attending Bridgewater State, she was also a substitute staff member of the Mansfield Public Library and one summer was a proctor for Project Contemporary Competitiveness on campus, during which she taught library skills. She stayed on at Mansfield's library, working 27 hours per week as the technical services librarian, while commuting to URI.
In the summer of 1986, she was pleased to find an hourly position in the reference department at Maxwell Library, working nights and weekends. That September, she was hired for a full-time, hourly, trust-funded position. In February 1988, when a full-time state position opened, she got the job she had been hoping for.
Today, Ms. Svoboda is an associate librarian and head of access services. Meanwhile, BSU has become a sort of family tradition. Her sister Catherine Webber graduated in 1992, and her son Jonathan in 2016. Daughter Gabrielle is a sociology major (with a minor in psychology) set to graduate next year. A cousin, Sheri Parker, is also a Bridgewater State alumna from the Class of 1991.
Over the years at BSU, Ms. Svoboda has earned service awards, performed sabbatical research on library services for students with disabilities and continues to provide school supplies to students through a program she created called School Supplies 4 U.
"I stayed at Bridgewater because I enjoyed the setting, staff and students," Ms. Svoboda said. "As a reference librarian, I learn while helping others. I've also had the opportunity to grow, increase my responsibility, publish articles and participate in committee work.