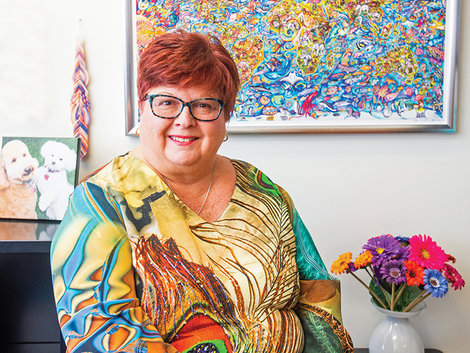 I want to get the message out that it's not just about teaching; it's about enhancing the quality of life of people with disabilities. I hope that I model for my students my passion for this field and how they can make a difference.
Story Series
Bridgewater Magazine
Dr. Jeri Katz was hooked early in life on her chosen profession.
She grew up in New London, Connecticut, where in eighth grade she began volunteering in her hometown's Headstart program. As a high school student, she served at a camp for students with disabilities and, in her junior year, tutored students each week at the Little Red Schoolhouse, a substantially separate public school program for students with severe disabilities. With that, her path was sealed. "I liked seeing the small steps the children made," Dr. Katz said.
It was later, at the Seaside Regional Center in nearby Waterford, that she witnessed firsthand the importance of special education teachers and therapists and the work they do.
At the center was a young girl with Down Syndrome no one thought would walk independently. "After months of practice with me every Sunday, she finally took her first steps," Dr. Katz recalled. "It was amazing."
The most rewarding part of working in special education, she sums up simply, "You know you're making a better life for these individuals."
Dr. Katz received a master's degree from what was then Bridgewater State College in 1978 and came to work at the college at the start of the 1995 academic year. "And it's been a great run," she said with a smile.
She earned her undergraduate degree in special education and elementary education in 1974 from Rhode Island College.
Her first teaching job was at the Kennedy-Donovan Program in Foxboro, working with students ages 3-12 who had multiple disabilities. During this time, she decided to take a course in family therapy at Boston's Wheelock College because she was seeing the toll children with disabilities took on parents. "I had a parent who was suicidal," she said. "I decided I needed more background in this area."
Her interest in counseling sparked, Dr. Katz enrolled at Bridgewater State for a degree in the subject. She still speaks highly of her advisor and professor, the late
Dr. Martha Drinkwater Jones, '64.
Dr. Katz became a special education teacher at Dedham High School, working with students with intellectual disabilities. Then in 1983, she was named the education director at Braintree's St. Coletta Day School. After leaving that role, she became the early childhood coordinator for a number of towns in the South Shore and helped open four integrated preschool programs. She also opened a special education advocacy practice and worked closely with parents around their children's needs in the schools.
Dr. Katz received a doctorate in special education from Boston College in 1992. She began teaching as an adjunct professor at Wheelock College in the special education department.
It was a summer position in 1995 that brought Dr. Katz to her alma mater. When a full-time position opened, she applied. "I interviewed for the position on one of those miserably hot days in June. I came back to teach that afternoon and was so exhausted from the heat, but my graduate students cheered me on as they knew how much I wanted the position," she said. "I got the job, and I was really, really happy to come back to BSC as a permanent faculty member."
Today, Dr. Katz is a professor of special education and department chairperson. She has imparted to countless BSU graduates the knowledge and compassion necessary
to work in this challenging field.
"I want to get the message out that it's not just about teaching; it's about enhancing the quality of life of people with disabilities," she said. "I hope that I model for my students my passion for this field and how they can make a difference."