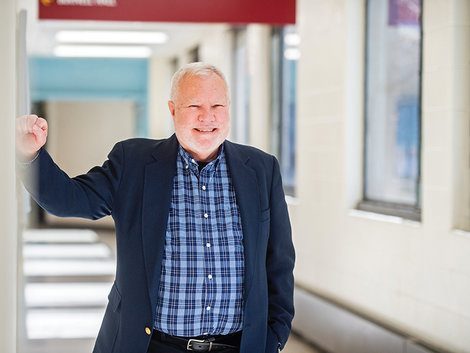 I see my job as helping my students discover their passions and set lifelong goals. It's something I hope they will do with their future students.
Dr. John Marvelle, '72, G'76
Story Series
Bridgewater Magazine
If there's a hallmark of Dr. John Marvelle's long and impressive career, it's movement. That may sound strange describing a man who's spent his college years and most of his career at the same place.
However, his wide-ranging interests and desire to deliver to his students life-shaping experiences means stasis isn't an option. "I've been through a lot of changes," said Dr. Marvelle, a professor in the Department of Elementary and Early Childhood Education. "Lots of it has to do with luck and spectacular mentors here at Bridgewater and other places," he said.
Those mentors continuously pushed the Mansfield native to try new things and to be unafraid of change.
Growing up, Dr. Marvelle believed he'd never travel beyond the borders of his hometown. In fact, after earning the first of his two Bridgewater State degrees in 1972, he taught first grade in Mansfield for four years. Next up was a master's degree from his alma mater in special education.
It was then that he became interested in helping parents to augment their children's education beyond the classroom. This became a focus as he pursued his doctorate at the University of Massachusetts Amherst.
Then things began moving. And so did Dr. Marvelle. "My world changed because people pushed me to challenge myself," he said.
His interest in parent involvement led him to take a job in the Town of Norton with Project Spoke, a regional special education program. The work he was doing there caught the attention of an up-and-coming company called Apple. From 1984-1988, he developed and ran Apple Computer Clubs, which taught computer literacy to young people here and around the world. In 1986, Dr. Marvelle spent two months in the Soviet Union on behalf of the company.
He was with Apple for the first whisperings about the Macintosh personal computer and still has a photo in his office in Hart Hall featuring him and a group of early Apple executives, including Stephen "Woz" Wozniak, co-founder of the company.
Yet, Dr. Marvelle felt the company was changing, and he didn't like its new direction. So in 1990, he was hired full time at Bridgewater State, where he quickly became a popular professor and began teaching and shaping the lives of countless students who are now educators themselves. "I see my job as helping my students discover their passions and set lifelong goals," he said. "It's something I hope they will do with their future students."
Over the years, Dr. Marvelle has co-founded a program where BSU education majors can student-teach internationally. He's co-led social justice tours to Belize and is involved with the Minnock Center for International Engagement in bringing students to campus from China. As a special education teacher, he's also fought for the right of developmentally challenged students to have a place in traditional classrooms.
His inclusive philosophy was shaped in part due to his own experience. Dr. Marvelle and his wife, Elise, lost a son, Jason, at the age of 3. Had the child lived, he would have required special education and other services – things some members of society and politicians aren't always willing to financially support.
"How much does it cost to educate a child with special needs?" Dr. Marvelle asked rhetorically, acknowledging that the tab can sometimes run into the millions of dollars for one student. "I believe that quality of life is important and that means including all children is important," he continued. "I teach not just the strategies of working with a student with special needs, I want my students to come to an emotional understanding that what kids need is to be with other kids and to grow up in an inclusive classroom."
As he looks back on his nearly 30 years at BSU, Dr. Marvelle is impressed by the many changes at his alma mater. In short, he's glad he returned. "The message of the story is I'm a really lucky guy," he said. "I've had extraordinary mentors and extraordinary experiences that have made my life as a parent, teacher and spouse very special. I have no complaints."