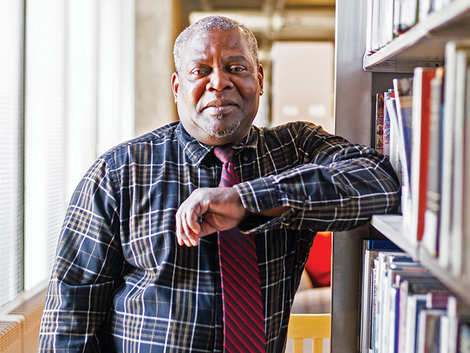 The trip that I've made from where I came from to here, to be able to do that, I can't explain it. Someday maybe I will.
Story Series
Bridgewater Magazine
When Stephen Fanus walked across the stage at Bridgewater State University's 2019 commencement, it was the culmination of a long journey.
"Words can't explain it," he said. "The trip that I've made from where I came from to here, to be able to do that, I can't explain it. Someday maybe I will."
If words fail him, it's understandable. The 59-year-old's story is one full of sadness and challenges that would defeat most mortals. However, it's also a tale of grit and determination, as well as proof of how far an indomitable will can take one.
The odds were against him from the start. Born in the Saint Lucian village of Micoud to an illiterate mother and absentee father, Stephen was born with a hernia that extended beyond his legs. His prognosis was so dire that his family held a wake for him the same day he was born. "No one thought I would live," he said.
Back in the late 1950s, his village had no doctors, just a midwife. Somehow Stephen pulled through.
Unable to walk due to the hernia, he dragged himself along the ground for the first years of life, leaving him open to ridicule and abuse from some of his less-understanding neighbors and even an uncle, who tormented him.
Stephen's condition also meant he could not attend school. Education was merely a dream, and he would watch, enviously, as his peers walked by heading to their classes each day.
He was determined, however, and would not accept a life of being housebound. He sneaked outside at every chance, intent on having some semblance of a normal childhood.
Stephen would be 12 years old before he had surgery for his hernia. An American doctor with the Peace Corps performed the handful of operations that changed his young life. Suddenly, he was able to attend St. Mary's Infant School in his village. It turned out to be bittersweet.
"It was great," he recalled. "Then I found out what I had to do. This was my nightmare; they expected me to do everything."
Of course Stephen couldn't read or write. When he failed to record his lessons on the board as directed, the teachers and headmasters hit him. The frustration – and the welts he was regularly collecting – caused him to quit. Stephen then worked with his mother on a local plantation and tried to teach himself to read using the Bible. This only got him so far, so at the age of 14, he left his homeland for Barbados hoping a change of scenery would bring new opportunities. "I was alone and had two dollars in my pocket," he said.
"I didn't know where I was going."
Family friends met Stephen when he got off the bus and helped him land a job. He enrolled in a reading and writing program. Again, he found himself hopelessly behind his classmates. He also learned he was dyslexic. Once again, he quit his studies. But this time he returned to the program, stuck with it and began to learn.
While in Barbados in his early 20s, Stephen built an eclectic resume that included work as a singer, dancer and fire-eater in the island's hotels. He even started his own small hotel, but the attacks of September 11, 2001, the subsequent drop in travel and the slumping economy put an end to that venture. So, he headed to America.
He landed in Taunton, and by 2003 he had enrolled in Bristol Community College's Adult Education Partnership program, which is cosponsored by the city's schools and the Taunton Literacy Council. Though he barely knew how to hold a pencil, there he found people willing to put in the time and effort to help him fulfill his goal of learning to read and write. "Basically, I learned on my own until I got here to Taunton," Stephen said. "I'm grateful for the people I met here."
When he began taking higher education seriously, around 2009, he began cautiously, but quickly caught the bug. "'How far can I go?' he remembered thinking."
After that, there was no looking back.
Still, Stephen faced a long road ahead, but in 2013, he earned a GED and was asked to be the graduation speaker for his class. He then began working toward an associate degree at Bristol Community College. He was selected in 2017 by the Massachusetts Department of Higher Education as one of the 29 Who Shine, a program that honors a student from each of the state's public colleges and universities for their academic achievements, leadership and community service work. He graduated in 2017 with degrees in communication and paralegal. "Oh, man, it was like moving a mountain. But I didn't stop," he said.
Next up was Bridgewater State University and a bachelor's degree in political science.
Along the way, Stephen served an internship at Fall River's South Coastal Counties Legal Services. "I liked it very much, and I think I have a knack for it," he said. Law school may
be his next stop.
In the meantime, he is working at Walmart, volunteering with youth programs at BSU and Southeastern Regional Vocational Technical High School in Easton, and writing his life story. He also stays in touch with his two children; one is studying law, the other culinary arts. It's clear their father's drive to improve himself has been passed along.
On a gray winter afternoon, Stephen, sitting in his Taunton apartment alongside a computer he uses for homework and online classes, and surrounded by piles of schoolbooks, said he hopes his story will inspire others.