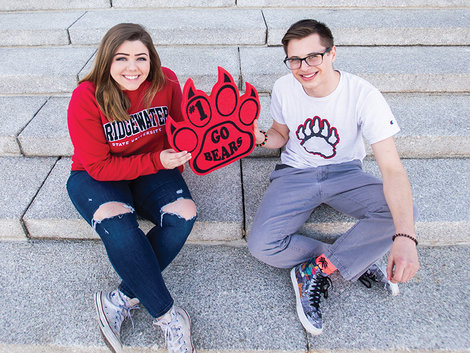 The vast number of these students sort of need exposure to the broader world. It's amazing what they can do if you help them connect a few of the dots.
Story Series
Bridgewater Magazine
It's clear that Tyler Czyras, '22, is thriving on campus. He's earned excellent grades and will serve this upcoming academic year as senator-at-large with the Student Government Association (SGA).
But as the first in his family to attend a four-year college or university, the Canton native felt alone when it came to dealing with some of the issues he had upon arriving at BSU.
"I only really experienced a little bit of apprehension, but that was just because I was scared of this new thing about to happen in my life," he said. "For example, I thought I was going to be an average or below-average student. Since I am a first-gen, no one could comfort my anxieties about college life and classes. So, I did what I did in high school and ended up doing so well the first semester that I got on the dean's list."
Many first-generation students face challenges stemming from an unfamiliarity with what to expect once they arrive on campus and a lack of knowledge about where to turn for help. The fact that no one else in their families before them held a college degree not only leaves them flying solo as they navigate their new lives on campus, but also creates other challenges.
First-generation students can often feel like they're hitting a wall, or encountering things on campus everyone expects all students to be familiar with. In the old days, these students were left to their own devices. "'Figure it out' moments like these are part of higher education's hidden curriculum, a collection of undefined cultural norms, processes and assumptions essential to navigating the academic, social and administrative elements of college life,'" wrote Ed Venit of the research firm Education Advisor Board (known now as EAB).
Research shows that nationally 32 percent of American undergraduate students are categorized as first generation. A study by Georgetown University's Center on Education and the Workforce reveals that only 40 percent of these students achieve a degree within six years, compared with 55 percent of students whose parents hold degrees.
Since more than half of BSU's student population falls into the first-gen category, faculty members and a group of students have developed a set of initiatives to address these challenges. Likewise, across the country, researchers and academic institutions are paying more attention to the hurdles that first-gen students often face.
Dr. Colby King, assistant professor of sociology, who studies the first-gen experience of today's students, was the first in his family to attend college.
"Working-class and first-generation status can be both invisible and stigmatized on college campuses, and these statuses can make success more difficult for students, as well as faculty and staff," Dr. King said. Students from these backgrounds "are also more likely to represent other marginalized groups on campus." While some Ivy League and private colleges and universities have taken steps to address these issues, they tend to have fewer first-generation/working-class students. BSU, as a public institution, is, necessarily, on the forefront of recognizing and addressing the needs particular to first-gen students since there are so many enrolled at the university.
The issues some first-gen students face include a phenomenon called "imposterism," or a feeling that even if you totally earned your place in the classroom, you have a sense that someone is going to find you out.
Some first-gen students also deal with a unique type of guilt, Dr. King said, where they're concerned about how they get to spend their time – learning and improving themselves – while their families remain skeptical of the educational enterprise.
Dr. King himself encountered a disconnect between his home life and his new life on campus. "It was sometimes hard to explain to my family what I was learning at college," he said.
Anna Rice, '21, is a first-gen student from Medway and president of the SGA for the upcoming academic year. She said her coming to college also meant educating the folks back home.
"I have introduced my family to many things that we didn't have access to in the past, including sorority life, residence life and the overall college experience," she said. "Though it is tough sometimes, I love every moment of this experience."
As for his family, Tyler Czyras said not everyone was ready for him to leave the nest. In fact, he still gets "I miss you" texts from his mother. "In reality, she and my father are my biggest supporters, and I wouldn't want it any other way," he said.
Knowing well the challenges facing many first-generation students, Dr. King began discussing the issue with other BSU faculty members. It turns out that many, like him, had been first-gen students themselves. The result was an ongoing program of activities launched under the rubric "Class Beyond the Classroom" to address the special circumstances faced by these students. Out of the initiative grew "Our Stories" events, where first-gen faculty and administrators share their own experiences; related lectures; special mentoring; participation in an annual First-Gen College Student Summit; and resources, both printed and online. BSU also has a group called I Am First!
"The goal is to make it possible that more students can succeed, no matter their background," Dr. King said.
Another faculty member who was a first-generation student is Dr. Sean McPherson, assistant professor of art. His resume includes extracurricular stints as a driver, translator, research assistant, cook, construction worker, architect and English teacher. Some of that work paid for his education at Williams College. As a result of his own experience, he has developed a strong connection with first-gen students in his classes. He also sees admirable traits in these young people who have been forged by their background and experiences.
"There's a reluctance to make excuses," Dr. McPherson said. "And they're too embarrassed to talk about the troubles they're having. They also tend to be very resourceful and more self-reliant," which is why he's been involved for years with first-gen programming on campus, along with Dr. King and the recently enjoined Dr. Inkyoung Kim of the Department of Political Science.
Drs. King and McPherson agree that first-generation students need help building social and cultural capital. Social capital refers to the number of friends, colleagues and supporters one has, to provide everything from job references to emotional support. Cultural capital is all about knowing how to dress and behave for different events.
In short, as Dr. McPherson puts it, "The vast number of these students sort of need exposure to the broader world. It's amazing what they can do if you help them connect a few of the dots."
Or, just take the advice Anna Rice would share with fellow first-generation students: "Don't sweat it! Just because you are a first-gen college student does not mean your experience will be drastically different from anyone else's. It's a scary thing to go into, especially when no one in the family has gone through it, but you get out of it what you put into it. Go after every opportunity that presents itself, and you will be just fine!"